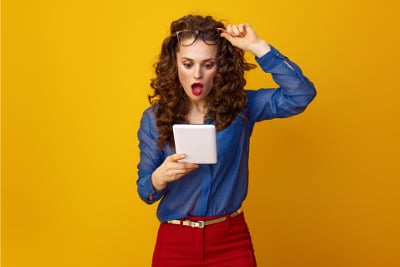 In a letter to Zoom on March 30th, the New York attorney general's office expressed concerns that the video-conferencing app may lack sufficient security measures for its recent surge in usage. Zoom is currently scrambling to address myriad privacy and data issues.
The office of Letitia James, the attorney general for the state of New York, wants to know how Zoom plans to handle increased traffic on its platform and the measures it will take to detect hackers.
In the letter to Zoom, the NY attorney general's office stated that the company has been slow to address security flaws, including vulnerabilities "that could enable malicious third parties to, among other things, gain surreptitious access to consumer webcams."
This is a phenomenon known as "Zoombombing" that is already trending on social media with its own hashtags. Hackers are taking over webcams in the middle of Zoom meetings and screen-sharing all kinds of inappropriate content from unsavory genres such as white supremacy, pornography, and antisemitism.
It is worth noting that Zoom was designed as an enterprise technology tool, and not a consumer social media platform. The company was not prepared to moderate user behavior the way other social networks do.
However, with social distancing forcing people into home-based quarantine, Zoom is being utilized in new ways:
Individuals have flocked to Zoom as a means to connect with friends & family
Schools and teachers are using Zoom for remote classes and lessons
Businesses have expanded their use of Zoom to reach more consumers
What was once a video-conferencing tool mostly reserved for the professional world has morphed into a social hangout platform, and even an e-learning tool.
Some children's privacy experts (and parents) are concerned about personal details of the kids being saved and/or redistributed. Some districts have prohibited the use of Zoom as a distance-learning tool.
It was also discovered that the Zoom mobile app for iPhone/iOS was sending data to Facebook, regardless of whether the user had a Facebook account. The privacy policy for Zoom does not explicitly address this data transfer to Facebook. The Zoom app tracks:
When the user opens the app
Make and model of the user's mobile device
User's phone carrier/network
User's city and time zone
The Zoom app also transmits a unique advertiser identifier (specific to the user's device) that companies can use to send targeted advertising.
While Zoom executives are surely pleased with the massive uptick in utilization, these security concerns must be addressed. If you are using Zoom to connect with orthodontic patients, be sure to use private meetings and think twice before hosting a public Zoom event that anyone can access.
Check back here on the Orthopreneur blog for the latest updates on COVID-19 and the ripple effect it is having on the orthodontic community. If you'd like to schedule a free evaluation of your website and Internet marketing efforts, contact us today!