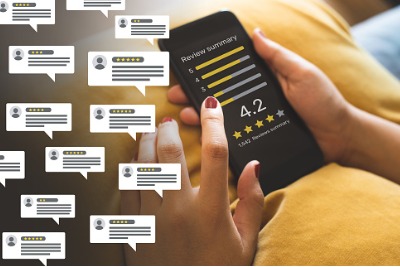 As 2020 draws to a close, let's take a look at how the events of the past year impacted consumer behavior at the local level. The great folks over at Bright Local were kind enough to share some insights with the world. Orthopreneur Internet Marketing has combed through the data, and we're excited to share some of the highlights with you!
Here are some key takeaways:
A whopping NINETY-THREE PERCENT of consumers used the internet to find a local business in the last year

87% of consumers used the internet to read online reviews about a local business in 2020 (up significantly from 81% in 2019)

The medical industry was the 3rd-most likely to have consumers reading reviews (behind only restaurants and hotels)
Much of this behavior is easily explained by the fact that people spent more time on their devices. Most community events, sporting events, concerts, vacations, festivals, and just about anything else people like to do, were not available in 2020. That led to increased searching and scrolling on the web.
How Does Online Consumer Behavior in 2020 Compare to Recent Years?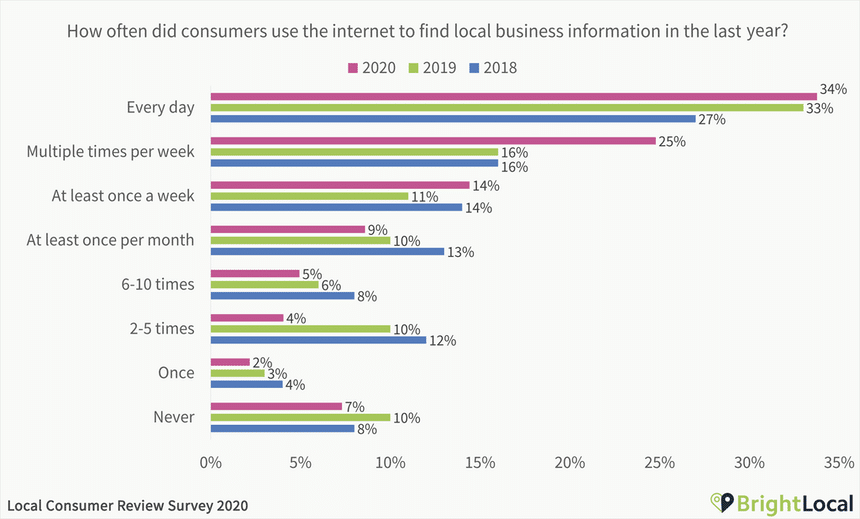 The most notable change is seen in consumers using the internet multiple times per week to find local business information. From 2019 to 2020, this leapt from 16% to 25%. By comparison, this same statistic stayed the same (16%) from 2018 to 2019. We can see a large uptick in 2020 for users who found themselves researching local businesses more than once a week.
In 2019, the percentage of consumers who used the internet to find local business information five times or less — for the entire year — was ten percent. In 2020, that number is all the way down to four percent. Again, this points to people using the internet to find local business information much more frequently in 2020.
Covid-19 and Online Reviews
Here's a very noteworthy nugget regarding coronavirus and online reviews: 67% of consumers said they wouldn't use a business if reviews said it didn't have Covid-19 health and safety measures in place.
There's never a good time to get a bad review, but the middle of a pandemic could be the worst possible time to have consumers leaving negative feedback about your commitment to keeping patrons safe. For an orthodontic practice or dental office, this is amplified. In the medical field, things like safety and sterilization are always expected. Any slip-ups or oversights during Covid-19 would be hugely detrimental to the reputation of your business.
17% of consumers have written negative reviews for businesses that do not have health and safety measures in place for Covid-19. Translation: 1 in every 6 consumers left negative feedback for a business for what they perceived to be a failure to protect people from coronavirus on their premises.
It is important to remember that for several weeks between March and May 2020, Google temporarily suspended new reviews. This meant fewer reviews being seen by consumers.
During the same period, the economic shutdown was peaking, further contributing to a downward trend for consumers reading reviews. (Most places were closed, and people rarely left their homes, so why would they read online reviews for local businesses?)
Did Consumer Trust in Online Reviews Go Up or Down?
It went up! In 2019, 76% of consumers said they trust online reviews as much as personal recommendations from friends or family. In 2020, that number increased to 79%. The online review continues to grow its influence over consumer behavior. Are you proactively analyzing and investing in your reputation management and review generation strategies?
Does it Matter How Old My Reviews Are?
The recency of your reviews is HUGELY important! Here's what the data says:
86% of consumers only pay attention to reviews from the last 90 days

73% of consumers only pay attention to reviews written in the last month

50% of consumers only pay attention to reviews from the last two weeks
This means if all or most of your reviews are more than three months old, you've got some work to do! You could be missing out on new patient leads because your online reviews don't give a strong enough endorsement of your most recent customer interactions. It's very much a "What have you done for me lately?" world we are living in these days. Use this information to your advantage, and earn those new reviews that highlight the current (and wonderful) experience at your local business.
To get this data, Bright Local surveyed over 1,000 US-based consumers in November 2020. To read the entire write-up, go here: 2020 Local Consumer Review Survey.
Not sure how you're doing with reviews? Looking for recommendations for reputation management and review generation? Curious to have a free evaluation of your online presence? Call (877) 295-5611 or contact Orthopreneur Internet Marketing to schedule a complimentary consultation!