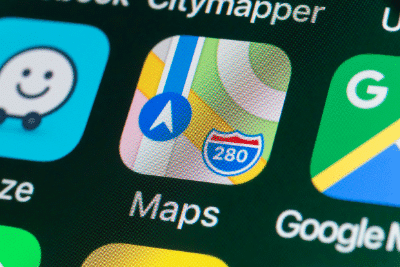 The latest versions of Apple's iOS 14 include some updates to Apple Maps and listings for businesses and Places of Interest (POI). Up until now, Apple depended on 3rd party integrations with other companies like Yelp and Foursquare to provide information about local businesses, such as photos and ratings/reviews.
Apple is now slowly rolling out rating functionality with a thumbs up or thumbs down, as well as the capability to upload photos. This is a big step for Apple Maps, and could signal the beginning of the end of Apple relying on Yelp and Foursquare for reviews and photos.
How Will Apple Maps Be Different?
Currently, if you tap on a business in Apple Maps, you will see a photo grid and reviews including the logo of the third-party integration, like Foursquare, Yelp, or TripAdvisor. If the user taps on the reviews to read more, then Apple Maps sends them to the App Store to download the partner's app. You would also have to go to a 3rd party app to post your own review, or upload your own photo. Apple looks to be changing this!
As of now, the rating feature is only available for a small subset of all businesses and POIs on the map. But it's worth keeping an eye on as 2021 rolls around, so you can be an early adopter for your business. As an orthodontist, many of your potential patients use iPhones and Apple Maps. 
There is a distinct possibility that Apple will only accept ratings from people who've physically visited a location (which they can tell from GPS data on the device). This would hopefully reduce the number of bogus reviews that have plagued sites like TripAdvisor and Yelp. 
After a user has visited a place several times, Apple's on-device machine learning could prompt the user to leave a rating. This kind of improvement is relatively easy for Apple Maps to make, because its user base is almost entirely made up of smartphone users (not desktops or laptops that lack location data).
How Do I Claim My Business on Apple Maps?
You will need an Apple ID or an iTunes account to complete the process, which starts at https://mapsconnect.apple.com/.
While it's not yet time to entirely rethink your online marketing and reputation management strategies based on Apple Maps, that might be coming down the pike. Remember to check our blog regularly for updates (and follow us on Facebook) so you're always in the know!