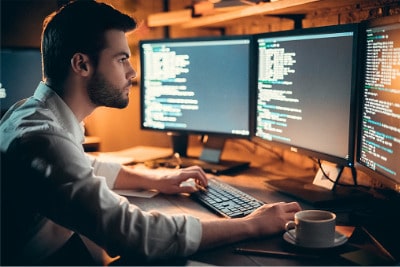 The only guarantees in life are death, taxes, and random, unannounced Google updates. In fact, a large Google Core Update just dropped in May. (Perhaps you saw some ranking changes, or noticed an infusion on Pinterest links in your local search results.)
As we tiptoe into the second half of 2020, it's a great time to review your local SEO and ranking factors. The main factors haven't changed, but they've played musical chairs in terms of the order of importance.
Remember: there is no silver bullet. The local rankings are determined by a combination of factors. Some you can control, and some you can't. When evaluating the local ranking of a business, all the factors should be considered.
What's the Most Important Local Ranking Factor?
Drum roll, please! Google My Business (GMB) is king. Having keywords in your business name and GMB categories that are an exact match to the keywords being used by the searcher will give you the biggest boost. The next-biggest ranking factor is Google reviews. If you're not paying close attention to your GMB listing(s), let this article signal the end of your indifference!
If you named your business after the city/town in your mailing address, then you're ahead of the game. Give yourself a well-deserved pat on the back. If you're like the rest of us, with a business name that lacks SEO turbo boosters, don't worry — there are lots of other local ranking factors where you can make up ground.
Check out this chart from MOZ to see what comes after GMB elements in the hierarchy of local ranking factors: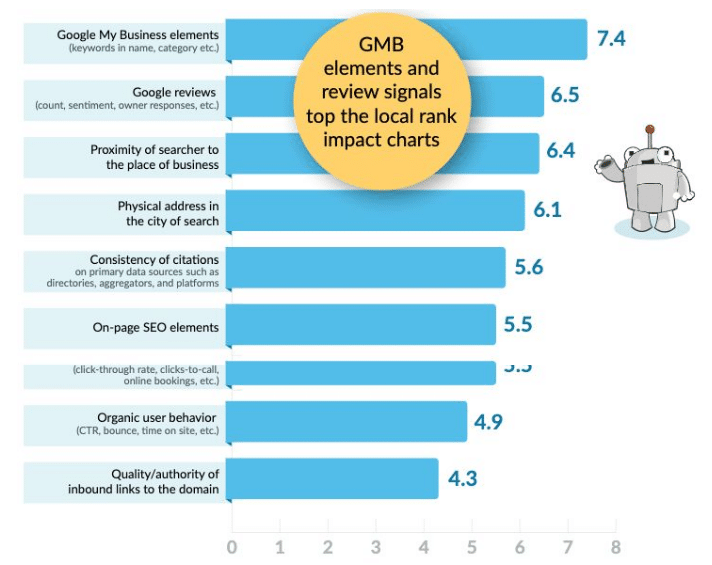 As you can see, the searcher's proximity to the business and the physical address of the business are next in the pecking order. This comes down to geotargeting, and Google's continuation of hyperlocal search. The relationship between the searcher's whereabouts and the location of nearby businesses is extremely influential to search results.
This time last year, it was widely believed that the searcher's proximity to the business was the #1 local ranking factor. One year later, searcher proximity has dropped to #3.
Orthodontic Citations and Business Listing Directories
Coming in behind GMB and geotargeting are your business citations. These are your online business listings across dozens of review sites, databases, and local data aggregators. 
Citations are mostly evaluated by "NAP" which stands for Name/Address/Phone. This ranking factor all comes down to one thing: consistency. If you hear someone mention NAP consistency in the SEO world, they aren't talking about daily siestas. It means matching business information all over the web.
The more consistent your business information is throughout the Internet, the more you will benefit from this ranking factor. There is some gray area here. Some businesses rank very well despite poor citation consistency. At the same time, businesses with clean branding & accurate citations can still struggle to rank.
Where Does My Website Factor Into Local Search?
Further down the list, we get to the website metrics and their perceived impact on local rankings. The SEO of the site, which has a bigger impact on the organic rankings than the local "Pack" or Maps area, still carries some weight when it comes to your Maps ranking. Same goes for your website performance & engagement metrics, which tallies user behavior on your site such as clicks, bounce rate, time on site, and page views.
Additionally, we see inbound links or "backlinks" on the list of ranking factors. It helps your website if other trustworthy, authoritative sites are linking back to you (hence the term). A quality backlink tells Google that your content is relevant and helpful.
Conversely, if your site has a bunch of backlinks from low-authority sites, it can hurt your ranking. Links from crummy sites indicate to Google that you are spamming, or trying to manipulate the rankings with low-quality links. It's the "bad neighborhood" principle, and your site can be penalized without warning. Go for quality over quantity when it comes to backlinks.
Got Questions?
We know it can be overwhelming. Maybe you're not sure where to start. Perhaps you just identified a big missing piece in your online marketing strategy. We're here to help! You can call us today, or set a time to connect with an Orthopreneur specialist by visiting our online scheduler.