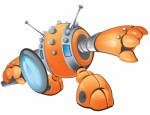 Google is now indexing  AJAX and JavaScript content, which means pages that use this programming–for example, Facebook comments–are now open to being searched and linked in the future to the person making the comment.  This was confirmed by Matt Cutts on Twitter, head of the webspam team at Google.
Google's all-seeing search robots still can't find comments on private pages within Facebook, but now any time you use a Facebook comment form on other sites, or a public page within Facebook, those comments will be indexed by Google.  What does this mean for you and your Facebook privacy online?  Nothing if you have privacy controls setup on your Facebook page which is recommended for any business and personal site.  I do not recommend changing these security settings to allow your patients comments to be indexed. It would open your Facebook page to spamming and negative comments you can't control.
However, if you comment on other sites or public pages within Facebook, what you say can now haunt you in the future.  When in doubt whether to speak out or not , say nothing.  Error on the side of caution. Before this update, Google's bots were unable to crawl the comments section of sites that used third-party commenting engines such as Disqus, Facebook, and Intense Debate. This is no longer true –and a potentially sticky situation for people who are hyper-sensitive about privacy issues.
As adults, hopefully we understand the consequences of our actions online but adolescents and teens today may not grasp the long term ramifications of what they say online today and how it could negatively impact them in the future.  Food for thought… especially if the Googlebots can go back and index previous comments.
Here are two links to interesting blog posts explaining the update sent to me today by one of my exclusive clients Dr. Derek Sanders at Orthodontics Only in Miami, FL.  Thanks Derek for keeping us all in the loop.  This latest Google update is creating quite a stir.  Where will it all end in the future?
If you find something online you would like to share with everyone, send me an email at mk@orthopreneur.com or comment below.  This is what social media is all about and a great way to help each other.
http://www.pcworld.com/article/243011/google_now_indexes_facebook_comments_paranoid_can_relax.html
http://www.webmonkey.com/2011/11/your-facebook-comments-coming-soon-to-a-google-search-near-you/