As technology continues to advance and digital marketing best practices evolve,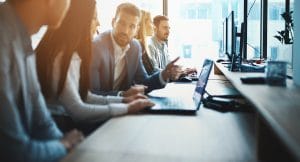 so have consumers. Gone are the days when orthodontists and dentists could simply tell current patients and potential new patients to use their services. Now, patients want to see exactly what you can do and how it can benefit them.
Outsourced Auto-Posted Social Media Doesn't Work
When it comes to orthodontic or dental content creation and message delivery, it is easy for people to recognize when a brand is being genuine and when it's not. For this reason, we at Orthopreneur advise clients not to outsource all of their social media presence.
Content that consistently comes from third party sources have a greater chance of not getting much engagement. There are three reasons why this can occur:
The topics are only about dental issues, procedures and concerns.

The calls-to-action are always connected to making some sort of sale.

The posts are never or rarely boosted for better visibility.
Social Media Marketing is a Verb
Talk to any leader in the orthodontic marketing industry and they'll most likely tell you that social media is not something you simply have, it's something you actually do. The more active you are and personable in your posts, the stronger your connection will be with current patients and prospective patients. Patients will trust that the content you're producing is correct and personalized for your brand.
Skip the Sales Pitch
It is common for social media management services to claim that they produce relevant content that engages audiences, but the truth is that many of them fall short of this promise. Their posts are typically centered around dental issues and their calls-to-action are always the same – "Schedule an appointment!" In addition to getting no likes, comments or shares, these posts bore readers and decrease page activity over time.
The purpose of social media is not to sell dental or orthodontic appointments. Instead, show people what kind of services you offer, the team patients will be meeting and examples of your work. Skip the sales pitch, boost your posts and grow stronger connections.
A Little Goes a Long Way
At Orthopreneur, we understand that dentists and orthodontists are very busy. You may not have a lot of time to personally invest in social media marketing and we get that. However, studies have shown that even the smallest bit of energy spent adding a personal touch to posts makes a big difference.
For example, create a short video answering a commonly asked question featuring yourself and other staff members. Add some of your personality or props to make it fun and engaging. By using the above suggestions for orthodontic marketing in your practice, your efforts won't go unnoticed and your messages will be sincere.