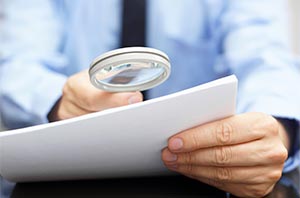 One of the most common Internet scams today involves domain names. Business owners are duped into thinking their website is going to expire unless they fork over a couple hundred bucks to keep their domain. Here's how it works:
Companies such as Domain Registry Services will send professional-looking documents to businesses. These notices will have official letterheads and a very believable appearance. They use a mixture of common customer service terminology and mild threats to confuse and manipulate business owners into spending money on domain registration services that they already have.
Just because your domain is already registered, that doesn't mean another provider can't try to trick you into transferring your domain to their service instead. These scams are preying on the uninformed. Educate yourself on how to identify spam domain notices.
How Do I Tell If A Domain Notice Is Legit?
First, you need to know where your domain is registered. Keep a close record of this; do not allow yourself to be kept in the dark by your website provider. Is your domain registered with a reputable company such as eNom or Godaddy? If you don't know, then you need to find out. Knowing your domain registrar will enable you to spot a scavenger like Domain Registry Services right away.
Second, read the fine print. When you receive one of these notices, do not be sucked in by the wording of the document. While they will try to trick you with clever language, they are obligated by law to include somewhere on the document that the notice is not a bill.
More often than not, the exact words "This is not a bill" or "This is a solicitation" will appear somewhere on the document. These disclaimers are often buried at the end of a paragraph or disguised near the bottom of the document. As soon as you find one of these disclaimers, you can be certain that you don't need to worry about paying their proposed fee.
What Else Do I Look For?
Here are some examples of the kind of verbiage commonly found on the notices that drive these scams:
"As a courtesy to domain name holders, we are sending you this notification of the domain name registration that is due to expire in the next few months."
"You must renew your domain name to retain exclusive rights to it on the web."
"Failure to renew your domain by the expiration date may result in loss of your online identity making it difficult for your customers and friends to locate you on the web."
Don't be duped by their simplicity. These documents are written in a very basic manner, so that they can be mass-produced and sent to thousands of business owners. If you look closely, you can easily identify the fake nature of these notices.
Scams Come From Both Types of Mail
Just as common as the physical documents, printed on paper and mailed to businesses, are the email domain scams. You may have received an email from a sender who claims to represent the Chinese government. The jest of the email is that someone has applied to register your branded business name.
The email will go on to say that this make-believe person or company has applied to register a bunch of domain names with your business name and all kinds of different suffixes. For example, let's say your website is www.YourBusiness.com. You will be told that you have preferential rights to register additional domains with a variety of endings such as these:
www.YourBusiness.asia
www.YourBusiness.us
www.YourBusiness.in (India)
www.YourBusiness.cn (China)
www.YourBusiness.tw (Taiwan)
www.YourBusiness.hk (Hong Kong)
Just to be clear, you do not need any of these additional domains! These email domain scams are easier to identify than the professional letterheads that arrive from the post office with your regular mail. Not only do they look sketchy, but people tend to be much more skeptical of email than other communication mediums in general.
Auto-Renew Is Your Friend
One surefire way to make sure you do not fall prey to these scams is to set your domain to auto-renew. This feature is available from any reputable domain registrar. By enabling the Auto-renew function, your domain will continue to re-register at the end of every term (whether that's every year, two years, five years, etc.).
If your credit card expires or is compromised, your domain registrar will notify you that Auto-renew cannot process without updated card information. Auto-renew is your friend, so use it!
To learn more about website domain names, website hosting, or navigating your way across the world wide web, call (877) 295-5611 today! We will schedule you a free evaluation to review your Internet marketing efforts.