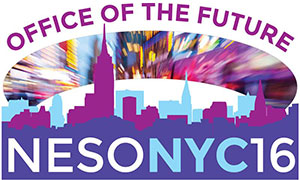 Adapt or perish.
Consumers today expect to be impressed at every turn. They want the best technology, distilled into a form that is easy to digest. It is not always easy to make the "latest and greatest" technology available to the masses, but we must find a way.
At the 2016 Northeastern Society of Orthodontists' annual meeting in New York City on October 7th and 8th, Orthopreneur will contribute our piece to the tech puzzle that all orthodontic practices must solve. A progressive, intuitive website that provides a helpful, informative experience for users of all devices.
The Office Of The Future is a full-scale replica of an orthodontic office, constructed on the exhibit floor, showcasing innovative goods and services. Orthopreneur is proud to present a progressive, leading-edge website to the attendees of this year's meeting.
Keeping Up With The Joneses
To be an "office of the future" an orthodontic practice must embrace and master the newest technology. This mostly applies to the tools and equipment used for moving teeth and creating beautiful, healthy smiles. But it also applies to the systems put in place for customer service and attracting new patients.
It is no longer sufficient to just have a website. In fact, it is no longer sufficient to have a responsive website. Consumers today, while having drastically reduced attention spans, expect more value for their time. In other words, as a business owner trying to earn new customers, you've got to do more with less.
The online marketplace demands answers, and FAST. People have little patience for a website that doesn't give them what they want at first glance. If you don't provide the answer right away, they're going to leave your site and go to your competitors.
Modern website design must combine the aesthetics of pleasing imagery and navigation while also meeting requirements for speed, convenience, architecture, SEO, and content value. And it also needs to elicit a positive emotional response in the first few seconds when a visitor arrives. Chop-chop!
Become A Master of Your Domain
Behold the elusive Internet marketing pun! Your domain name a.k.a. website URL is the backbone of your online presence. Is it more important to have a catchy domain that people can remember, or an exact-match-domain (EMD) that mimics the most popular search terms for an orthodontist? Well, that depends. If you need help figuring out which domain is best for your practice, call (877) 295-5611.
Once you have selected the best option available for your domain name, it's time to build a site. As healthcare providers, orthodontists can't be overly technical with a website because the goal is to appeal to everyone. At the same time, we cannot focus solely on the "Wow!" factor because the website still needs to serve its purpose as a professional, credible storefront for your business on the Internet.
It's Time To Get A Mobile Home
No, not for finally taking that cross-country joyride to visit historic landmarks. For cell phones! The fact is, mobile devices — not desktop computers — are becoming the primary vehicle for Internet searches done by the public. Mobile search can no longer be an afterthought.
The user experience is very different on a mobile device than it is on a laptop or a desktop computer. Mainly because the screen is so much smaller, adjustments are needed to make the site look and work the right way on a phone. That means images and text must be appropriate sizes, and the order in which the information is presented should change.
For example, mobile visitors are much more likely to want a phone number or an address than desktop searchers. Therefore, the address and phone number should feature very prominently on your mobile Home page.
Make Your Website Welcoming and Satisfying
As website designers, we put ourselves in the shoes of your patients (and more specifically, the mothers of your patients), and design the website based on what THEY want to know; NOT what you want to tell them.
Orthopreneur continually studies websites very closely for the field of orthodontics. We have pored over thousands of Google Analytics reports, tracking data in multiple areas including number of visits, referral traffic, time-on-site, bounce rate, and what devices visitors are using. We have also tested countless websites on desktop, mobile, and tablet devices to gauge efficiency and adaptability.
We know what works! Our website design experts understand the ins and outs of website design as it pertains to orthodontics. Most web designers do not have a background in orthodontics, and sometimes that lack of experience is evident in their site designs.
If it's time for you to get moving, go here to schedule your free evaluation.
The Northeastern Society of Orthodontists 2016 meeting will be taking place October 7th and 8th at the Times Square Marriott Marquis in New York City. Orthopreneur services will be featured in the "Office Of The Future" exhibit and we will also have representatives available in Booth 206.