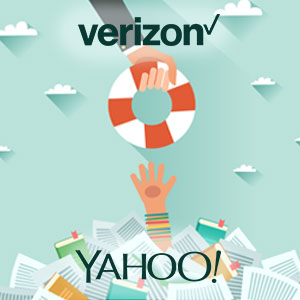 Oh, what a difference a few years can make.  In 2008, Microsoft made an unsolicited bid of $44.6 billion to buy Yahoo. The intent was to team up on the online advertising front against the supernova that is Google. Yahoo rejected the offer.
Fast forward to 2016, and Yahoo is going to Verizon for about ten percent of Microsoft's bid. (The official sticker price is now $4.83 billion.)
What does this mean to orthodontic practices marketing themselves on the Internet? It means that Yahoo may be coming back into the fold on mobile search, and in the online advertising sector. Where do we go from here?
Figuring Out What's Next
Some legal red tape still remains, as this sale has to be approved by regulatory committees. There will also be a period required to finalize the takeover and implement transitional protocols, thus the deal will hopefully close in early 2017.
But this deal could set in motion a potential reemergence of Yahoo in the local business marketplace. Verizon, which also acquired another iconic web company in the form of AOL in 2015, is one of the most widely distributed brands of mobile technology in the world.
Combining Verizon's user reach and cultural pervasiveness, AOL's digital content prowess, and Yahoo's 1 billion users could ultimately prove to be a powerful mixture.
In a letter she wrote to the company, Yahoo CEO Marissa Mayer noted that "With more than 100 million wireless customers, a shared view of the importance of mobile and video ad tech, a deep content focus through AOL, Verizon brings clear synergies to the table."
Changing the Status Quo
The current state of Yahoo Local is still such that it warrants little to no concern from business owners. The merge of Yahoo Local with Yext (and the nebulous thing that was Luminate by Aabaco) have been largely inconsequential. Yahoo will look to Verizon to resuscitate its relevance to small businesses.
The mobile local search market is still dominated by Google, with Bing and Apple Maps picking up the scraps. If Verizon starts pumping its gadgets full of Yahoo browsers and services, then that is likely to bring Yahoo into the fray.
The impact of this will be two-fold: businesses will once again need to verify and maintain accurate listings on Yahoo Local, assuming they will be appearing on millions of Verizon devices. Also, if Yahoo ads are going to enjoy a cosmic boost in impressions and clicks due to the infusion of Verizon users, then business owners will need to consider advertising on Yahoo.
Depends who you ask…
While Yahoo is valued at over $30 billion overall, the majority of that worth is tied to Yahoo Japan, and Yahoo's massive stake in Chinese online retailer Alibaba. The "core business" of Yahoo, which includes the Silicon Valley headquarters and the Yahoo brand, is being sold to Verizon.
Many point to this sale as evidence that Mayer has failed to save the company since taking over as Yahoo CEO in 2012. Others contend that what remains of Yahoo is nothing to scoff at, and that Verizon now stands to become a major player in mobile search and advertising along with Google and Facebook.
It's largely a numbers game. Google has established itself as Goliath when it comes to Local/Maps and online advertising in today's digital age, while the other companies are scrambling to get a piece of the pie. This move will bring Verizon a vast number of users who like and trust the Yahoo brand.
Verizon has done well to acquire devalued companies in Yahoo and AOL that have outstanding brand awareness. As the #15 company in the Fortune 500, Verizon can afford to spend roughly $9 billion on two of the most recognizable brands in the online marketplace. This move positions Verizon to maintain and even build upon its current economic strength.
Be sure to revisit the Orthopreneur blog to stay up-to-date on current information for promoting your business online. To learn more about optimizing a business for local search or marketing an orthodontic practice on the Internet, contact Orthopreneur to schedule your free evaluation.