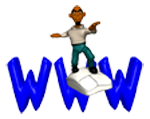 Many philosophers, current gurus, writers and poets always preach we should live in the present.  If we make the most of each day, our future will be created in kind.  My favorite quote is by Thoreau…
"You must live in the present, launch yourself on every wave, find your eternity in each moment. Fools stand on their island opportunities and look toward another land. There is no other land, there is no other life but this."
My present has always created my future in whatever I accomplished throughout my orthodontic career:
When I helped create an orthodontic practice management software system with a Zerox computer Geek in 1982 that saved time and improved collections with contract billing. I tried to promote it to other orthodontic practices in the area, but they laughed.
In 1991, when we brought in a Baby Dolphin Imaging System as a marketing tool to impress new patients, it was almost 10 yrs before someone else in the area followed suit.
In 1998, when I set up our first website, the competition didn't come around until six or seven years later.
In 2005, I coordinated the installation of a fully intergrated paperless orthodontic practice management software program which included digital marketing and radiography.  Patients are very impressed.
In 2009, now out on my own as an Internet marketing consultant,  the majority of orthodontic competitors in the area are pushed off organic #1 page ranking on Google with a proactive PR Orthodontic Internet Marketing campaign by Get It Straight.
The practice has been #1 in the area for over 25 years and will continue to do so by living in the present… whether I am there as a member of the team or not.
Ride the wave of present time and take advantage of the Internet to become your own PR director for your practice.  The past few years have been rough, but the economy is starting to turn around.  Be thankful. You have weathered the storm!  Now, live in the present and make sure you are maximizing your Internet marketing presence to build your future with new growth.
I found this video below on current music trends on YouTube.  As with everything new and innovative, it will take some time for this to catch on, but the time will come when musicians will produce classical, jazz, pop, rock, hip hop… whatever… with a combo electrical string, keyboard, and wind instrument.  This group I predict will explode into the music culture because they were the first.  They may not ultimately be the best with the learning curve and you may not like it, but they are the first to try and already are creating a big stir.
My second favorite quote…
"It's not the BIG that eat the small, it's the fast that eat the SLOW!"  Jason Jennings
Happy Thanksgiving!
I have much to be thankful for this year, especially you my readers and my clients who understand the benefit of taking full advantage of the Internet.
Koodos to you…Much success!