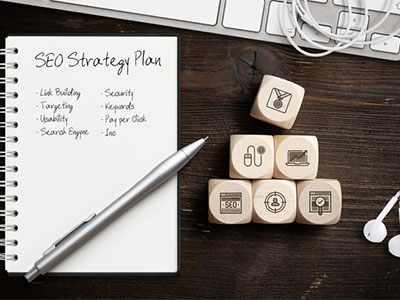 Your orthodontic practice has established an online presence with a website, but now you need SEO (search engine optimization). The purpose of SEO is to make sure your website is seen by both patients and prospective patients. As you scroll through lists of companies offering SEO services for orthodontic practices, you notice several terms repeated from site to site. What do these digital marketing terms regarding SEO actually mean? 
To help you decide which company to hire for SEO service for orthodontic marketing, we'll explain four common SEO terms you should know. 
SEO
According to Moz, SEO is the practice of increasing the quantity and quality of traffic to your website through organic search engine results. Simply put, if you want your orthodontic website to be found on Google, having a proper SEO setup is a must.
As a matter of fact, studies show that 75% of people will never scroll past the first page on a Google search. The goal is to make it to the first page results. If you can make it to #1 in the results for your geographical area, the better your online presence will be. At Orthopreneur, our extensive experience in the orthodontic industry allows us to know exactly which keywords will improve your ranking. 
XML Sitemap
Think of a sitemap as your website's resume. Just as your resume lists your credentials, a sitemap summarizes the content of a website in an easily digestible format. It should include a list of every page on the site so Google can crawl the site and determine your ranking. Every Orthopreneur website we build comes equipped with an XML sitemap. 
Link Building
By definition, it is described as the process of using links from other websites on your own website. As a search engine crawl the links among all the pages of your website, it determines how well a page should rank in their results. Consider link building to be a form of building relationships with other businesses. Search engines, like Google, scan your website and find these relationships in the links you share. The more links shared between the same sites, the better your ranking will become. 
Featured Snippet
Ever asked Google a question and see a snippet that contains the answer at the top of the search results? That is called a featured snippet. The snippet displays the title of the page as well as the URL to follow and read more. An image will also appear if there is one included on the page. They always appear above the #1 ranked search result. 
Ask yourself: what questions are potential patients trying to find answers for? Create pages and write content that answers these questions. Doing so will help improve your chances of becoming a featured snippet. 
Summary
Now that you've learned some of the most important SEO terms, let's recap. SEO can be described as getting found on search engines like Google. An XML sitemap is your website's resume so search engines can crawl your website. Link building involves building relationships with other businesses by using third party links on your website. A featured snippet appears above the #1 search result and answers a question put into the search engine. 
Here at Orthopreneur, we take all of these terms into account and optimize our websites so that orthodontic practices like yours put their best foot forward online. For more information about our web design and SEO services, contact us to schedule a complimentary consultation or call (877) 295-5611. We've got you covered online.