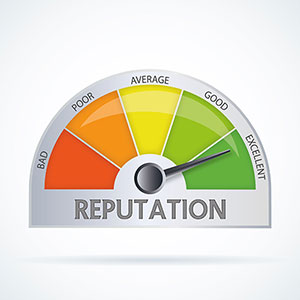 According to a survey conducted by Dimensional Research, a whopping 90 percent of respondents who recalled reading online reviews said that positive reviews made an impact on their buying decision. Also, roughly 86% of respondents said that buying decisions were influenced by negative online reviews.
There is no hiding from it anymore: online reviews can make or break your business. So what is a business owner to do? Be proactive.
Why do we put airbags in cars? Well, sometimes people have accidents. What's the point of a fire drill? To be prepared for a fire, of course.
Taking preemptive measures against unexpected danger is not a new concept. So why not apply that same school of thought to the online reputation of your business? Being proactive about online reviews is your only defense against the dreaded bad review.
How can you prevent a dissatisfied patient from harming your practice?
By building up a cushion with satisfied patients! While there is some gray area around the legality of "soliciting" reviews, it is not against the law to politely request an online review from a satisfied patient.
How Do I Ask Patients For Online Reviews?
Patient's Parents: "Jimmy and Janey love coming to your office, and their smiles are looking great!"
Orthodontic Practice Representative: "Thank you for the compliment, we are glad you are satisfied with our service! Would it be too much to ask of you to write us an online review? It would really help us on the Internet."
Do not miss out on the opportunity to boost (and protect) your business on the Internet. If you are able to gain five or more excellent reviews on five or more different review sites, you are well on your way to safeguarding your business from negative reviews.
On What Websites Should An Orthodontist Get Reviews?
Which sites should you start with? Some big ones to pursue initially are Google, Yelp, Healthgrades, Facebook, Superpages, and Citysearch. Other review sites to consider include Insider Pages, Merchant Circle, and Foursquare.
Because the lion's share of local search still goes through Google, you should start there. Is your practice verified on Google My Business? You may have set up Google Places in the past, or maybe you had a cup of coffee with Google+ a couple years ago. Both of these versions have been phased out, and your listing may need to be reclaimed.
The service is currently referred to as Google My Business (GMB) and you should double-check to make sure you are verified on this current platform. This is an important step in identifying and promoting your brand on Google.
What is the best way to get reviews? By asking satisfied patients. If you can provide them with a link to your business listing on Google, even better.
What is the worst way to get reviews? By running contests i.e. "Write us a Google review and be entered in a drawing for an iPad!" Please do not run a contest to solicit reviews. It violates the guidelines of every online review service.
Need more help getting started?
Looking for an analysis of your online reputation?
Contact Orthopreneur for a free evaluation!