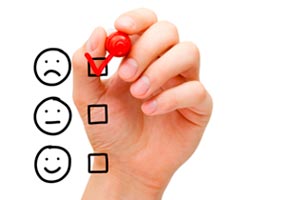 Something that is sure to ruin any business owner's day: a negative Yelp review. Despite your best efforts, despite your best intentions, someone was compelled to badmouth your business on Yelp.
Maybe the information in the review is fabricated or embellished. Perhaps the name of the reviewer is not even in your customer database. Or maybe you just had a very difficult patient and the treatment did not go smoothly. It happens to a lot of orthodontic practices.
A bad review on Yelp could be bad for business. Sometimes, Yelp seems to feature the negative reviews more prominently than the good ones. Why is that? How can you get Yelp to remove negative reviews?
What To Do About A Negative Yelp Review
Any reviews that make it through Yelp's review filter and show publicly can be difficult to take down. In the long run, your best bet is to proactively build a strong review presence on Yelp to absorb the potential hit of a bad review. One bad review out of 10 or 20 looks a lot different than one out of two.
If you are trying to simply delete a Yelp review as a business owner, that is not an option. You can, however, flag reviews that violate Yelp's content guidelines. This is as close as you can get to manually removing a Yelp review.
By flagging a review, you are reporting the review to Yelp as invalid or inappropriate. Each review has a small flag icon next to it; when you hover over the flag icon, the option to "Report this review" will appear.
NOTE: You need a Yelp account to flag a review. If you are not signed into Yelp, you will not see the flag icon. You must be signed into a Yelp account for the flag icon to appear.
If Yelp investigates the review and determines that a content violation occurred, the review will be taken down. If Yelp decides that the negative review does not violate their content guidelines, then you are likely to be stuck with it.
Responding To A Yelp Review
If you have claimed your listing using Yelp for Business Owners, you can respond to reviews as the Owner. If you choose this route, proceed carefully. You do not want to engage in a dispute in a public forum. Keep your responses short and sweet; don't get defensive and don't argue with the reviewer.
You should also keep in mind that your response may constitute a HIPAA violation depending on how it is worded. Divulging any details about a patient's condition or treatment could represent a breach of HIPAA guidelines. A post from www.hipaajournal.com states that "Even when no [personal health information] is disclosed in the comments, healthcare providers have breached HIPAA Rules simply by confirming that the commenter is one of their patients."
Your only other recourse is to reach out to the person and resolve their issue. They can update their own review, but no one else can edit it besides them. Most of the time, once the bad review is posted, the relationship is beyond repair (or the person has used an alias and you have no record of their experience).
The Yelp Review Filter
The filter is a widely-scrutinized algorithm that Yelp uses to determine which reviews to show, and which reviews to hide. The reviews that are filtered out will be stashed near the bottom of a Yelp business page. They are accessed from a link for "other reviews that are not currently recommended" and can be very hard to find.
The filter looks at the actual written content of the review, as well as the activity and relevance of the individual Yelper who wrote the review. One primary indicator of Yelp authority is the number of reviews a person has left on Yelp. The more reviews a person has written, the more likely their reviews are to make it through the filter.
If you have a patient leave you a review on Yelp, but that is the only Yelp review they have ever done, their relevancy score is low and their review is more likely to be filtered out. When engaging your customers on Yelp, it is important to encourage them to review other local businesses on Yelp along with yours.
Should You Ask For Yelp Reviews?
The short answer is no. Yelp actually has a policy on review solicitation, and the page is titled Don't Ask For Reviews. But it all comes down to semantics. The more nuanced answer is yes.
There is a thin line between asking for a review and engaging your customers on Yelp. Based on the guidelines, it is OK to tell customers to "Check us out on Yelp!" by displaying a Yelp badge in your office, linking a Yelp icon on your website, or including a link to your Yelp page in your email signature.
As long as you aren't directly asking for reviews, you are encouraged to point visitors to your Yelp page whenever possible. It is worth noting that Yelp can track the IP address of reviews, and pinpoint the Internet connection the review came from. If all of your reviews come from your in-office WiFi network, Yelp can identify that repetition and may filter reviews due to duplicate IP addresses.
Not sure if you own or manage your listing on Yelp? We can help with that. For more information about branding your orthodontic practice on the Internet, contact Orthopreneur to schedule your 1-on-1 webinar with one of our Internet marketing experts.