Your orthodontic practice has been active on social media for some time now.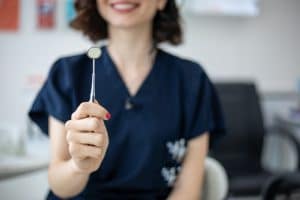 You've gained a nice following and get regular engagement from patients, parents and prospects alike. How do you maintain the momentum with fresh content? With social media now becoming an advertising magnet, many orthodontists are wondering how to promote orthodontic and dental products without annoying patients or losing followers.
Annoying Ads Lead to Less Followers
With digital ads flooding social media feeds across every major platform, it's no wonder why the number of online ad blocker downloads has increased to over 100 million in recent years. For those who aren't blocking ads, unfollowing and unsubscribing from businesses with aggressive advertising is the next best thing.
Fear not. Social media is still a great way to get followers interested in visiting your practice. We at Orthopreneur will explain three painless ways create posts that talk to your patients instead of at them.
Showcase What's New in Orthodontics
Contrary to belief, talking about orthodontics and its innovative products on social media isn't as boring as many would think. The technological advances within the dental industry can be fascinating to learn about. Create a post sharing the latest equipment, products or procedures your practice has to offer. An example of this can be seen with the practice below shared a photo of what 3D printed models look like with their iTero Element.
Source: Dr Mary Kay Becher DDS PA Facebook
Teach Your Followers Something New
One way to generate interest in the orthodontic products or treatments offered at your practice is to create short, educational videos for social media. Explain the benefits and drawbacks of the treatments and use this time to address some common questions patients may have. Make it fun and relatable by including some of your staff or appealing to everyday life.
Appeal to Emotions
The secret to creating interest in the orthodontic products or services your practice offers is to establish a personal connection. Most people aren't looking forward to visiting the orthodontist. Give patients a little encouragement by creating a social media post that motivates them to be proactive about moving forward with orthodontic treatment.
Share a video that showcases the warm, caring environment they can expect at your practice while highlighting some of the products and equipment used to get the job done.
Looking for more ideas? Contact our office for help on sharing information about what's happening at your practice to social media. We've got you covered online.