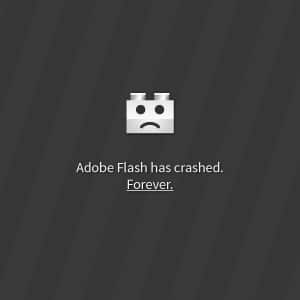 With a fair amount of chatter going around about Adobe Flash no longer being supported and what it means for everyone, let's add our two cents to the discussion. Or how about two words: Everyone Relax.
"News" [sarcastic voice] of Adobe Flash no longer being supported in the latest version of Google Chrome — dubbed "Chrome 53" due in September — has left many wondering if this is going to cause big problems. It isn't.
Meanwhile, some are under the impression that Java is being phased out, and that's not happening either. A number of browser plugins that use Java will no longer be supported, and you won't see any new browser-specific plugins being created. But the programmers and developers tasked with driving the Internet forward (ourselves included) have already moved on from most of these technologies.
The Real Deal With Flash
The truth is that Flash has been losing support for a while now. Both Google and Firefox have previously stated that they would drop Flash eventually, and with good reason.
Mac, iPhone, and iPad users know how much fun it is trying to figure out how to view Flash content on an Apple device.
On desktop PCs, how many times in the past few years have you been prompted to install an Adobe plug-in so you could watch a video? Or seen a notice in your web browser stating "The following plug-in has crashed: Shockwave Flash"?
If I had a dollar for every time I encountered a gray or black screen with a frowning robot telling me "The Adobe Flash plugin has crashed" then I would be devastated by this ultimate demise of Flash, because I would have been getting filthy rich off of the ineptitude of this outdated technology. Good riddance to bad rubbish.
Do I Need To Do Anything About Flash?
If you haven't seen any of the errors described above on your own website, then congratulations, you aren't using Flash! Most web designers have stayed away from Flash for the past several years, and will continue to do so. This includes orthodontic website design. Just to be sure, go ahead and check your own site for any Flash content — then update it.
Flash being patently disabled in the new Chrome is like getting rid of an old bicycle or piece of exercise equipment at a garage sale. Maybe you're just now getting rid of it for good, so it feels like a big deal, but it hasn't been used in forever. Flash is wasted space; dead weight.
If you are still using Flash, then it's time for you to clean out your garage and get some new stuff. Let us help you with that! Contact us for a free consultation and we can make a game plan for updating your web presence.
Is Java Being Phased Out?
As for Java plugins becoming a thing of the past, this does not mean that Java itself is being phased out. Rather, Java is adapting to the shifting needs of web developers and the evolution of the world wide web infrastructure. It is a warning shot for any developer or programmer that needs to get with the times.
The news about Java plugins can be compared to DVD players and Netflix replacing the VCR. You can still watch VHS tapes if you're determined enough, but the mainstream will pass you by. And you won't be getting any new releases for your VHS collection.
Questions? Concerns? If you would like to speak with an Orthopreneur Internet marketing specialist, call (877) 295-5611. We've got you covered.