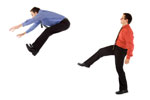 In the fall of 2009, Google Maps underwent a major update that kicked more than 50% of all local businesses off the maps, including orthodontists… eliminating their free source of advertising….
Where you one of them?
How many competitors were affected?
When was the last time you checked your listing on Google Maps?
Watch my Video on YouTube to learn how to test for correct maps listing in your local area.
The dust is finally settling after a major update that occurred in the Google Local Business Center. With 1/2 billion searches occurring every month in local areas, you can't afford not to pay attention.  Many of my clients are safe, some have lost ground with a few keywords, but a few have disappeared completely with the latest update.    Why they disappeared is still open to speculation.
I want to caution readers that when taking advantage of any FREE services offered by the search engines, you have no control over your outcome.  Your best course of action is to play by their roles… and then, there are no guarantees. If they opt to change the rules, you are at their mercy.
Your best strategy is
Due diligence in educating yourself on latest changes
Make sure your vendors are on top of it
Keep updating your website SEO and Internet marketing strategies when necessary to keep up with latest changes if they apply to you.
Don't wait for your webmaster to inform you… be proactive
With FREE services, there is no one to call at Google or the other search engines to voice concerns, object to placement, or state your case for consideration.  You can try email, but good luck with that!  When dealing with Google who receives thousands of emails every day, it is my personal experience that when they finally get back to you weeks letter, their response is generic and of little help… no more than an automated response.
Google survives on Pay Per Click advertising.
Google is in the Internet business to make money… Their only source of income is derived from businesses advertising on their FREE services. By reducing the exposure of businesses on the maps, it encourages more businesses to advertise with Pay Per Click.  The update was also an effort to appease current PPC customers upset with FREE listings on the map that competed with their paid advertising.  They considered it a conflict of interest. From a business standpoint, Google was caught in a difficult situation.  Restructuring solved issues.  Reviews on the maps were also restructured, but I will leave that discussion for another day.
So what happen on the Maps in the Google Local Business Center?
Google restructured local search so when a consumer is looking for a business in your local area, only 7 listings show on the maps instead of 10. In some areas the maps was reduced from 10 – 3 listings.  This was a 70% reduction. Small areas with three listing may now be down to 1.
If you are one of the businesses who were booted, my question is… can prospective new patients find you easily on "page one" in your local area … or are you invisible?  The SEO of your website plays a critical role with the visibility of your website in your city and the surrounding towns targeting patients, not only in page ranking but also on the maps.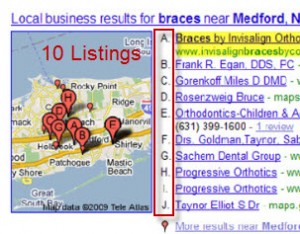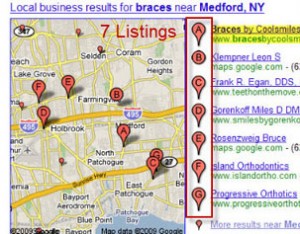 The most coveted areas on any search engine are page one, #1 – 3 in organic page ranking below the maps (not the top highlighted area in yellow or on the right column, which is paid advertising.) SEO allows some control over your positioning in page ranking. In addition, it is also important to understand that many consumers do not venture "below the fold", (bottom half of the page) same as when reading a newspaper.  If you are ranked 4 – 10, your chance of someone clicking into your site reduces with every position.  If you are on page 2… forget it.
Only 10 practices can be found on page one for each local keyword, with only one coveted #1 position.   On the maps, only seven practices will be listed, and in some areas only three.  In small towns, it is not uncommon to list only one.  Is it you or a competitor?
Map exposure is worth its weight in gold…
The "Maps" is the first area visitors see when searching in local areas for an orthodontist.
You have no control over what position you are placed on the maps A-G ,
SEO is not a major factor in how businesses are positioned on the maps.  Just count your blessings if your practice is visible on page one Maps for orthodontic consumer keywords orthodontist, braces, Invisalign, and orthodontics.
Changes to the "Maps" were HUGE for any local business…
Don't be left in the dust by online competitors because you failed to monitor how your website is positioning in your local area.   Whether you do it yourself, or outsource services to Internet marketing vendors,  make sure you accept marketing responsibility and test your website for visibility on the maps… as well as organic page ranking with the top orthodontic keywords consumers use to find your website.
If all this is Greek to you, I offer a free consultation for practices who don't have the time or understanding to evaluate.  Feel free to contact me now to set up an appointment via my online webinar service so we can discuss your Internet Marketing options.