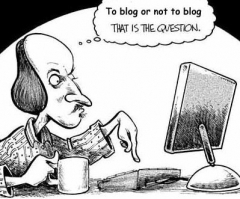 When considering the Internet as a marketing tool in your orthodontic marketing plan as a professional service provider, you may find it difficult to see how a blog can help you sell your services.  The online world tends to refer to selling products as something digital or physical in nature.
But the truth of the matter is …if you provide a professional service… then YOU are your product.  It isn't the type of braces you use that achieve the final result; it is your attitudes, skills, and knowledge using different treatment modalities that creates a beautiful healthy smile.  Your ability to sell yourself as a product builds and maintains a successful practice now and for the future. Therefore, your services can be promoted using your blog in much the same way as any other product being sold online.
One of the great things I love about blogs and blogging is the credibility you can build up over a relatively short period of time. You have much more flexibility with a blog than a traditional information website.
You do not have to know html code to manage your own blog which eliminates your webmaster
You have total access to the back end of your site to easily edit or add new content on a regular basis
You can upload photos, audio, and video to your site.  If  you don't have your own video, you can embed free video from YouTube
You can SEO every blog post and page of your site so it is found in your local area on the search engines
Plugins or add-ons are available to add flash and cool affects on your site.  You are only limited by your own imagination, time invested, and skill level
Many professionals still believe prospective new patients are not looking online for orthodontic or dental treatment providers.   This belief couldn't be further from the truth. The monthly reports from the Google Local Business Center are verifiable proof patients are looking for you every day. The question is are you there at the exact time they are looking you… and offering content they are interested in reading or watching on video.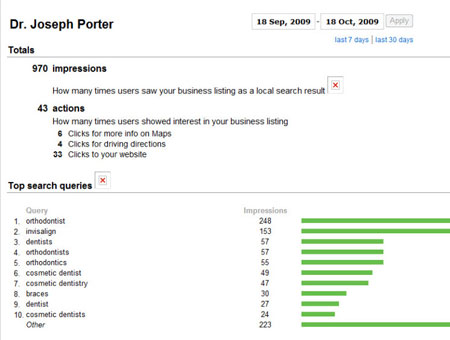 One of my clients Dr. Joseph Porter in Louisiana has allowed me to post one of his monthly reports off the Google Local business center.  If only one new patient per month calls the office to schedule an appointment and starts treatment (very conservative projection) consider how powerful it would be if you had a website and a separate blog to attract and engage new patients to contact your office.  Can you afford not to target this Internet audience?
If you don't have an Internet presence your local area, you might as well be invisible in today's orthodontic market place where the vast majority of consumers go online to research treatment providers whether they are referred to them by their general dentist, friends, or family.  Doesn't matter, they want to check you out first before picking up the phone to schedule an appointment.  This is the way it works today.  The Internet and social networking has changed all rules when it comes to marketing a business today.
The key to an effective blogging strategy is the correct setup of the blog to engage and inform visits which includes SEO, a separate domain name and hosting service from your website, and continually adding new content on a regular basis of interest to visitors so they know you are out there. Blogging is an art and like everything else, in order to do it correctly, training is necessary to learn how to do it yourself or have a basic understanding what is involved to oversee vendors you outsource your services for optimum results and return on investment.
As one of your New Year Resolutions, I want to urge you as a professional, to look into and actually start blogging about your professional services and the benefits and features of undergoing treatment in your practice rather than your competitors.  It could bring in more new patients, make you a published author online, and who knows what opportunities are awaiting once you get the word out on a more personal level to those interested in treatment in your area.  Social networking is the "HOT" marketing medium in today's tech savvy society.
I predict that in the not too distant future, your blog will attract more new patients than your website. Eventually many Blogs will outrank websites on the search engines. Social networking is virgin territory for most professional businesses.  Stake your claim now on Internet real-estate in your local area to gain early positioning in front of your competitors and then maintain it for the long haul.
If it's the technology and the time required to blog on your own that scares you, let me help clear the fog around blog building for you.
It works if you work it! Promote your practice and orthodontic expertise through the marketing power of the Internet.
Share your thoughts… do you agree or disagree blogging as a marketing tool is a good option to implement today in to promote your business