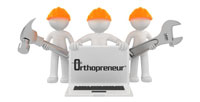 Author: Mary Kay Miller
Marketing on the Internet continues to move at lightning speed and it is a struggle to keep up.  I am a firm believer in Pareto's Principle and the 80/20 rule:  20% of your marketing brings in 80% of patients. This philosophy has served me well for over 30 years, both in private practice and in my own business.
It is impossible to implement every program presented today; no one has the time. It can also be tricky to determine what programs or ideas will work best in your particular practice for ROI. And if you implement a new program, which programs do you let go to allow your staff time to manage new programs successfully?  Each practice is different and consequently so are its best marketing tactics.
My recommendations to all my clients is based on many factors.  Staff training and skill set, time to invest in marketing to achieve best results, and budget are at the top the list.
Orthopreneur will now be offering  periodic updates and information on Internet marketing, social media, SEO (search engine optimization), and announcements we feel would be of benefit to you and your team to facilitate your marketing.   Educating doctors and staff on the world of Internet Marketing has always been a primary goal of Orthopreneur.  Subjects will change from week to week,  so watch for my posts. Every marketing pearl counts!
Also…Feel free to forward me posts and info you feel will be of interest to others. Email mk@orthopreneur.com.
Orthopreneur's Tips, Tricks and Tools  March 10, 2012
1. Kaleidoscope™  In my opinion, Best New Marketing Product so Far in 2012 for Internal Marketing. Thumbs up for ROI for both saving staff time and $$$ – Introduced at Damon Forum and Ortho2 Users Meeting.
Have a monitor screen mounted on the wall of your office taking up space that few people are viewing? Need to promote your practice more to patients? Here is the answer!  Digital marketing tool constantly changing with random and personalized content designed to attract the attention of current patients while in your office with up to date news, entertainment, weather, and more.
Check it out on their website!  Inexpensive way to promote your business.  Set it up once a month and forget it.  Tell Charis Santille that Mary Kay Miller sent you.
2. I am frequently asked how to write a good blog post.  Whether you do it yourself or outsource to someone else, this is great advice.
12 Things That Will Kill Your Blog Post Every Time by The Daily SEO Blog
3. Did YouTube Redesign Rearrange Your Site? – Supposedly this new update is more user friendly.  I am not sure I agree from a business standpoint, but it may be for viewers.  If you haven't checked out your Youtube page lately… take a look.  You made need to make some adjustments.  YouTube's Announcement
4.  Facebook is Changing Its Look Again – New Timeline Update? I am not a Facebook expert but I am receiving many questions on the latest update that will go into affect soon.  Many Facebook users and especially business owners are very frustrated. Here are a few posts that may help make the transition easier.
How To Create a Facebook Cover – Includes exactly how to upload and dimensions needed for artwork
Here is another link on how to make the best use of  Timeline Pages.
Feel free to forward my email to your friends and colleagues. Comments are also welcome below.