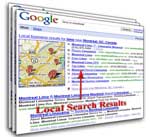 Wanted to share with everyone a new program in Beta Testing on the Google Local Business Center (Maps).
They are testing a new program where you highlight your maps listings so it stands out from the others on the list.  Currently it is only available in San Jose, CA and Houston, TX.
I personally feel this is a great inexpensive opportunity to promote your business.  Those who work with me know I am not big on yellow page ads and PPC programs unless there is no other alternative to find your practice on page one.  I prefer you target your marketing dollars and energy in more effective Internet markting programs since it is reported 70% of consumers will not click on a PPC listing.   Just like printed yellow pages, consumers (especially A patients) are not looking for professionals in the yellow pages on the Internet.
However, this new program is highlighting your business in the first area a consumer zooms into when searching for an orthodontist in your area.  Great way to promote your video, website, or latest marketing promotion.
Keep your fingers crossed it becomes reality,remains reasonably priced and doesn't go up for bid.  Currently it costs $25/mo. Here is what it looks like.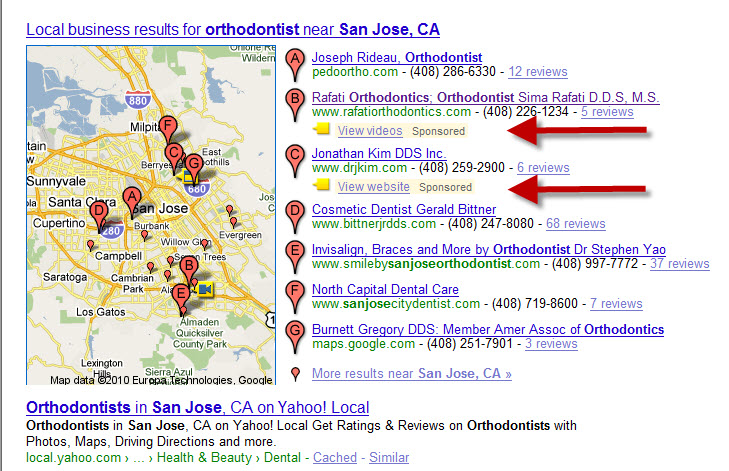 Below is a blog post I found announcing the beta test.  Will keep you updated on how it is going, so make sure your read my future posts.  Sign up for my RSS feed if you want to be notified when all my posts go live with latest Internet marketing updates and information.
http://google-latlong.blogspot.com/2010/02/simple-way-for-local-businesses-to.html
Do you think this new program has possibilities as an Internet marketing tool in your area.  Share your comments below.  Would love to hear from you.
Just a reminder I will be at the AAO meeting in Washington at Booth #317 near the main entrance.  Stop by so we can meet.  Just look for the "Yellow Umbrella". We'll be happy to run a quick test on your Internet exposure to see how your are doing.  It will be one of the better stops at the meeting.  Look forward to meeting you.