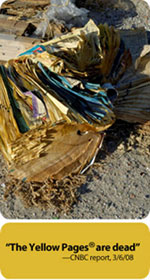 One of the most frequently asked orthodontic marketing questions I am asked today by clients is "What is my opinion of yellow page advertising?"
To be direct… I am not a fan.  I was never a fan with printed yellow pages and still feel the same about online marketing with Yellow Pages.  It doesn't make sense to me when you consider consumer search habits.
Consumers today are listening to friends and family when it comes to recommendations for products and services.  They then go online to research what they have heard, looking for a website or social media.  Years ago there was a need for yellow pages since it was the only source of quick and easy contact info. With Internet access in the office, at home, and smart phones, the "Death Nell" is soon approaching for Yellow Pages.  Their usefulness has run its course.
I found this report compiled by Vista Print who works with many small businesses.  Finding reports of this nature are unusual, especially from an objective source looking to gather information of interest for its clients.  See what micro-businesses (under ten employees) are saying when it comes to yellow page advertising.
After reading the report, my only area of concern is the number of businesses looking to begin online paid advertising.  Latest statistic report that paid online advertising (adwords or pay per click ads) is no longer effective as it was a few years ago.  In 2006, 20 -30% of online visitors would click on a paid ad,  2010 statistics report less the 1-2 %.  Consumers have been desensitized to online advertising the same way they fast forward through TV commercials whenever possible.  They even have a name for it…. Banner Blindness.
The most effective exposure online today is page one ranking on search… in first three positions… and a maps listing. This is your goal if you haven't reached it, or if you have… you must work to maintain it.  Targeting your marketing $$$ towards organic search positioning is a much better investment long term for the future of your business.
What is your experience with Yellow Page Advertising today?  Would like your input.  In comparison to other marketing strategies, do you consider it a good return on investment?