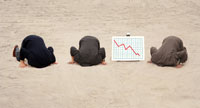 Internet Orthodontic Marketing Do or Die…
I know this subject is scary and most of you are paralyzed into inaction when it comes to either thinking about or actually producing video as part of your Internet orthodontic marketing program. If you don't bring your head out of the sand NOW, you are missing out on a huge opportunity which will impact the bottom line production of your practice and its future in years to come.
Online video viewership set a new record December 2008 with a 13% increase over the previous month according to a new report released from the comScore.com Video Metrix Service. For the first time, more than 14.3 Billion videos were watched in December by US Internet users. As you might expect, Google Sites (which includes YouTube) led the growth charge, accounting for 49% of the incremental gain in overall videos viewed versus the previous month. In December, almost 100 million viewers watched almost 6 billion videos on YouTube alone.
Having your video rank on page one of Google is Internet Orthodontic Marketing Mecca.  Once your video link reaches page one… you are golden.  Viewers can't help but want to click on, which will maintain its position due to click through rate.  Below is what "organic" domination of Page One on Google  with video looks like.  What do you think patients will click on first?
Listed Are 5  Key Pointers To Consider when uploading your video to the Internet.  Following These Guidelines Will Increase Your Visibility and Click Through Rate…
Add your video, including testimonials, to YouTube and social networking sites

.  You are missing out on valuable new patient referrals if it is only found on your website. 

Brand and Keyword optimize

your video so consumers find it when searching with

their patient keywords

in your demographic.

 

  If your video is not indexing on page one of Google, you are losing potential new patient starts.  Viewers love to click on a video if it is seen in any position on page one.

Keep your videos to 3 minutes

or less, whenever possible.  Today's Internet consumers are ADHD challenged.  They won't watch a video for long unless it is really of interest to them.  You are better off making multiple short videos rather than one long video.

Monitor your video on a regular basis and change keywords, if necessary, to improve its page ranking

.  If you can't find it on page one within a month, you need to change the code.
Speed to Market wins the race…Your video does not have to be an expensive production that is perfect… Just look at the videos on YouTube. Consumers are interested in content… not perfection. 
Here is a great example of a 90 second video, one of my clients produced themselves… in less than a week at  Elliottorthodontics.  The photos they took create interest and the scripting they wrote clearly describes both features and benefits of treatment.  Their new site will be completed soon.  But in the meantime, they are being proactive attracting new patients with video on YouTube and their site.
 "If you want what you have never had, you must do what you have never done!"  Wayne Dwyer
Here's to your marketing success on the Internet!