Big news this week for Google My Business users: Google has introduced a "Posts" feature on the Google My Business (GMB) dashboard that allows business owners to publish a mini-blog post to their business listing on Google!
The destination for the posts will be the knowledge panel (or knowledge graph) that shows up in the results when someone searches for a business. Initial testing shows these GMB posts only showing to mobile users, but expect the posts to start showing up in knowledge panels across desktop searches as more businesses start to utilize the feature.
The Posts feature is not immediately available for all categories, but it is already available for Orthodontics. What is the maximum word count? Can you include a photo with the Posts from Google My Business?
Yes, you can include a photo. The currently recommended format is 750×750 but the minimum is 250×250. The photos are automatically cropped into a square, and Google allows the business owner to easily identify the area of the photo that should show.
As this is a new feature, don't be surprised if there are some bugs with the image display and formatting. Videos and animated gifs are not supported in the current GMB Posts feature.
The word count must be between 100 and 300 words. Only the first 100 characters will show in the knowledge panel in the initial search results, so don't bury the lead! Make those first 100 characters really count.
Users will also have the ability to designated their post as an "event" and specify dates. The Posts feature also includes the following call-to-action  options:
Learn more
Reserve
Sign Up
Buy
The posts will have a limited lifespan of one week in the knowledge panel on Google search. Posts designated as an Event will stay in the knowledge panel for the duration of the event as specified by the business owner. It is unclear at this time what will happen to the posts after seven days, and we don't yet know whether the posts will be indexed or searchable in subsequent weeks and months.
The Posts have built-in sharing features for a number of social sites, including Facebook, WhatsApp, Twitter, and Google+. Here is a screenshot of the Google My Business Dashboard with the Posts feature present: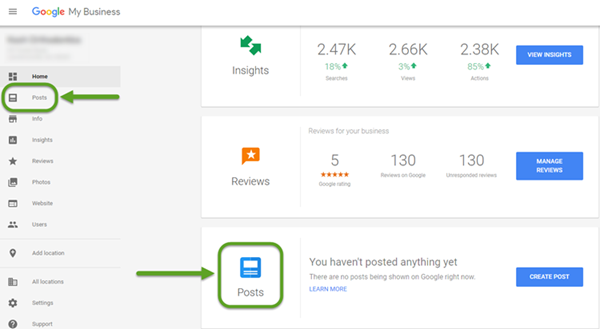 We strongly recommend that orthodontic practices take advantage of this feature. This is a long-awaited opportunity for you to directly influence the information contained in the knowledge panel when someone does a Google search for your business.
Still have questions? Want some help figuring out how to post, or what to post? Call (877) 295-5611 or click the button below to schedule an appointment with one of the Internet marketing specialists at Orthopreneur!