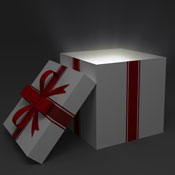 Here are some last minute orthodontic marketing holiday gift ideas… 
If they can, parents will always straighten kids teeth…even in a bad economy, and sometimes at the expense of general dental care for the family. 
General dentists are feeling the affect of the downturn in the economy this holiday season. This in turn will affect the number of referrals to your practice.  Do everthing you can this year to set yourself apart from the competition with holiday gift giving. It does make a difference and heres' why…
I was in a dental office 3 weeks before halloween, making recommendations for improving SEO on a General Dental website,  and was amazed by a counter filled with pies, cookie plates, and cider and donuts. They were all deliveries received from numerous specialty practices in the area and thoughtful patients. Many were duplicates.  I was always on the giving end of marketing promotions at halloween… but I was amazed what it all looked liked on the receiving end.  To tell you the truth… not impressed.  Looks like a bake sale.
I asked for feedback from one of the staff who was trying to find room to pour a cup of coffee on the limited counter space.  "Its nice for a change I guess, but it always seems to comes in at the same time and alot of it we take home to our kids.  I don't pay much attention to it anymore.  I am usually watching my diet and only cheat occasionally with something special."
Sometimes, no matter how hard you try, you just can't seem to find the right time or the right gift for referring doctors and staff for holiday gift giving that grabs attention.  Over the years I found some unique items that made lasting impressions.  This year, especially with the poor economy, make a statement with your holiday gifts to referring staff of general dental offices to let them know you care and took time to send something special.  I also recommend you don't deliver early in December when everyone else does.  Aim more towards the end of the month or even into early January when it isn't expected as a New Years Gift.
So if you haven't already found something unique, listed below are some quick and easy gift ideas that received raved reviews from referring offices in past years and one I found new online this year:
Italian Ice Cream Truffles

– These frozen delicacies received the highest rating from referring offices.  They are pricey but worth the expense. Originally they came in packages of 6 or 12 , but unfortunately this is no longer an option.  Because of their perishable nature, I had them shipped directly to the offices on a Monday when ofices are rarely closed.  They are shipped in dry ice and rock hard when they arrive. They keep well in the box once opened for the day to prevent thawing or you can take them out of the box an hour before eating .  This gift is a definite show stopper in comparison to other gifts delivered by specialists.  I normally never order gifts that were shipped direct to offices because of lack of personal touch, but this gift was an exception and well worth it.  This is also a great gift idea any time of the year for top referring and larger practices.  Any of their dessert selections are outstanding if you want to be totally decadent.
Cookies By Design – Presentation of the highest caliber in fun packaging.  Cookies with your logo or custom design are memorable and will definitely receive a double take from everyone in the office. If you don't want to use your logo… there are many decorated holiday choices to pick from. They look almost too good to eat.  If you don't have a location near you,  they will ship the entire order to your office so you can delivered them yourself. The glaze on the cookie keeps them from spoiling and they are packaged very well.  As far a taste, I rate them a three out of five, but a good trade off considering presentation.  The glaze is very hard which hardens the overall texture of the basic sugar cookie.
Mrs Fields Decorative Holiday Selection – Unique packaging makes a common gift "remarkable".  Their packaging this year is impressive. Cookies, cakes, pies etc can't help but be a common gift.  Even if you offer baked goods from trendy  bakeries.  Dressing it up is your only option to stand out.  If you order by December 1st, use code EBD8 for a 10% discount. Yes, they are more expensive because of packaging, but worth it to make a statement which is what deliveries are all about.
Cheryl and Company Gift Towers – Also beautiful presentation for the holidays. Wrapping options makes it appropriate for any office.  Free shipping is available on some items to save money.  They are very helpful with multiple orders.  Call for suggestions and different options.
Custom Chocolate Logo Bars – Quality chocolate almost too pretty to eat.  This company online is new to me and what I would consider a great gift any time of the year that won't spoil, although it probably won't last long.  This is a very unique item where I am sure there will be no duplicates.
Always think PIE for referring offices – Presentation Is Everything… not the edible type.  Don't let this holiday go by with dull and boring marketing gift selections.  No matter what you decide on, make a statement and stand out from the crowd on general dental staff room counters.
What unique gifts are you using this year?  Feel free to comment below or leave suggestions.  December/January is the time to be setting up your 2009 marketing programs. You and your team set up your yearly marketing programs ahead of time… right?