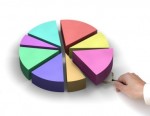 I just read and interesting article in the OrthoTribune Newsletter – "Invisalign innovation: improved clinical results for a broader range of patients"  that I would like to share with everyone.
This fall, Align introduced  new features in all Invisalign products. New aligner features, along with improvements in Invisalign software and clinical protocols, are designed to overcome barriers to treatment.  The new features are addressing both clinical issues that general dentists have traditionally perceived as challenging in Invisalign treatment, such as extrusions, rotations and certain types of root movements.
Prior to the release of the next generation of Invisalign products, treatment techniques that were once only available to orthodontists with advanced training are now standard on all prescriptions resulting in additional treatment options for general dentists.
I was the first Invisalign case treated at Get It Straight Orthodontics back in 2001. At the time, our practice was told Invisalign would never be offered to general dentists as a treatment option for their patients.  It would be exclusively offered to trained orthodontic professionals.  Over the years, little by little, promises have gone by the wayside and protocols have changed.
Are the new features offered in the Invisalign products just one more way to reduce your piece of the orthodontic pie in your local area?  How do your plan to kick up your marketing program to compensate for the potential loss of more new patients?  Food for thought…
Obviously, there is going to be much debate on this topic.  How do you feel about the latest Invisalign updates in product delivery to general dentists?  Please share your thoughts and comments below for others to read.