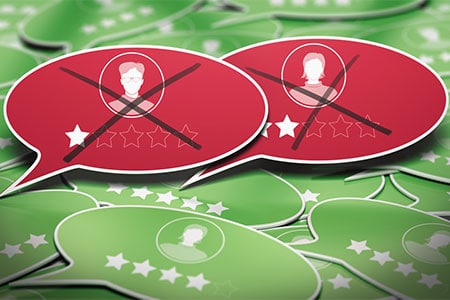 There's no question that the internet is becoming an invaluable orthodontic marketing tool. Your practice's online presence can really make or break your business. More people than ever are turning to Google reviews and online forums in order to inform their decision. In fact, 97% of local consumers had looked online for local businesses in 2017. According to BrightLocal, 9 in 10 people trust online reviews as much as personal recommendations.
Many dental and orthodontic offices have caught on to how growing their online presence can lead to growing their practices. Offices now encourage patients to leave Google reviews to strengthen their online reputation. The more five-star reviews a practice receives, the more likely prospective patients are to book an appointment. 
With that being said, it is important to understand the troubles that can arise as reviews start rolling in. 
As reviews have become more commonplace, the presence of fake reviews has also soared. Because of this, it is crucial for brands to look for and remove any fake reviews that may appear. BrightLocal states that 74% of consumers read a fake review in the last year, though they're not always easy to spot. For this reason, it is important to know how to spot and remove these fake reviews quickly so they do not threaten your reputation.
Common Fake Review Signals:
The reviewer's name.

If the name of the reviewer does not match any of the names in your practice management system, there is a good chance the review isn't real. 

Reviews with repeated exclamation points.

This is typically a pattern used by bots to grab attention. They usually contain false information.

A reviewer with a pattern of leaving similar reviews.

Keep an eye out for reviewers that constantly give out 1-star reviews on other business listings. They may be abusing the platform. 

Mistaken identity.

If the review mentions services or products that you do not offer, chances are the reviewer has mistaken you for another brand. 

N

o comment or elaboration about their experience.

Most people who leave reviews also leave a comment explaining their experience. Google gives out points for those who leave a comment along with their rating and makes them more visible. The keywords used in the reviews can help your practice better appear in search results – further improving your online presence. 

Impersonal avatar.

It is quite common to see a photo of an emoji or cartoon in place of a profile picture for those that leave fake reviews. Google typically uses a blank photo when someone does not update their profile with a photo. While an impersonal avatar may look suspicious, it is important to note that not all profiles that have this are fake. Be cautious of this before making assumptions.

Generic comments.

In recent years, it has become increasingly popular for companies to pay people to leave reviews on their listings and others. They sometimes provide a template containing related keywords, instructions to repeat the company name more than once, and read like anyone could have written it. If it doesn't seem authentic, it probably isn't.
The Problem with Facebook Reviews
Google isn't the only place people go to for reviews. Over the last few years, Facebook has also become a trusted source for reviews. While the social media platform is a great resource for getting recommendations for products and services from family and friends, take caution. 
TechCrunch reports that in June of 2019, Facebook was warned by the UK's Competition and Markets Authority (CMA) that they needed to do more to tackle the sale of fake product reviews. The platform was found "hosting multiple groups were members solicited writers of fake reviews in exchange for free products or cash (or both)."
TechCrunch states that the consumer association, Which?, "found 55,000 new posts across just nine Facebook groups trading fake reviews in July – generating hundreds 'or even thousands' of posts per day." Keep this in mind when receiving recommendations on your Facebook business page. 
Summary
Reviews are more than a tool for marketing your orthodontic or dental practice. They offer insight into how your practice is perceived by those who have directly interacted with it. 
As an orthodontist or dentist, your goal shouldn't mainly focus on getting 5-star reviews. The goal should be to create positive experiences patients will want to talk about. Get people talking about your company culture, their treatment results, and the level of service they were given. These are what people look for when deciding to book a consultation with your practice over the competition. 
For more information on how to spot fake reviews or questions on how to respond to fake reviews, contact our office. We offer reputation management services to help improve your online presence. We've got you covered online.