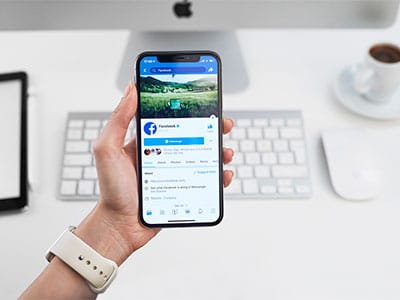 If you've accessed your business page on Facebook in early October, you probably received a notice at the top of your page stating: "Grey Badges Will Be Removed October 29." You would also have a message in your support inbox from the Facebook team explaining the change.
According to the message, Facebook will begin removing the grey badges that appear below the name of business pages as of October 29, 2019. The reason for this being that the badges have proven to be "more confusing than helpful." In 2015, when the badges were first introduced, their purpose was to "show which Pages for businesses and organizations are authentic."
Here at Orthopreneur, we're often asked how orthodontic practices can gain new followers and increase engagement. While there is no magic formula, there are best practices that can be implemented. To help improve your orthodontic practice's presence on Facebook, here are seven best practices to follow:
1. Choose the Right Categories
When setting up your business page on Facebook, be sure to select the right categories that best describe your practice. The platform allows you to select up to three categories for your page in the Page Settings tab. Choose the most specific categories related to your practice to maximize visibility in searches so prospective patients can find you.
2. Add Your Address
It is fairly common for prospective patients to search for nearby orthodontists in their area. Increase the chances of them finding your practice by adding your locations to your Facebook page. Make sure that the map on your page is pointing to the correct location. Some best practices for locations include:
If you have more than one location, create location pages for each one. Not only will this help patients find you on Facebook, but it will also help for SEO. Furthermore, search engines will differentiate your locations in their results based on a user's location or search terms.
If your practice is located inside another business (like a mall or business complex), select the option for "Located inside another place." This allows you to add details to help patients find you.
If your business does not have a location yet, you can edit your Page info to hide the street address on both mobile and desktop devices.
3. Add a Profile Picture and Cover Photo or Video
First impressions are everything. The first things people will see when they visit your page are your profile picture and cover photo. Make sure visitors are not only introduced to your brand, but your practice as a whole. Execute the following best practices for your profile photo and cover photo or video:
Profile Photo: Add your practice logo or mascot (if you have one) to this area. Make sure the image is square so it fits within the frame.
Cover Photo or Video: Add a photo of the orthodontist(s) and the team or showcase a familiar part of the business that grabs attention. Does your practice have an intro video on your website? Add the same video to your cover on Facebook! This will help keep visitors on your page longer and give an idea of what they can expect in your office.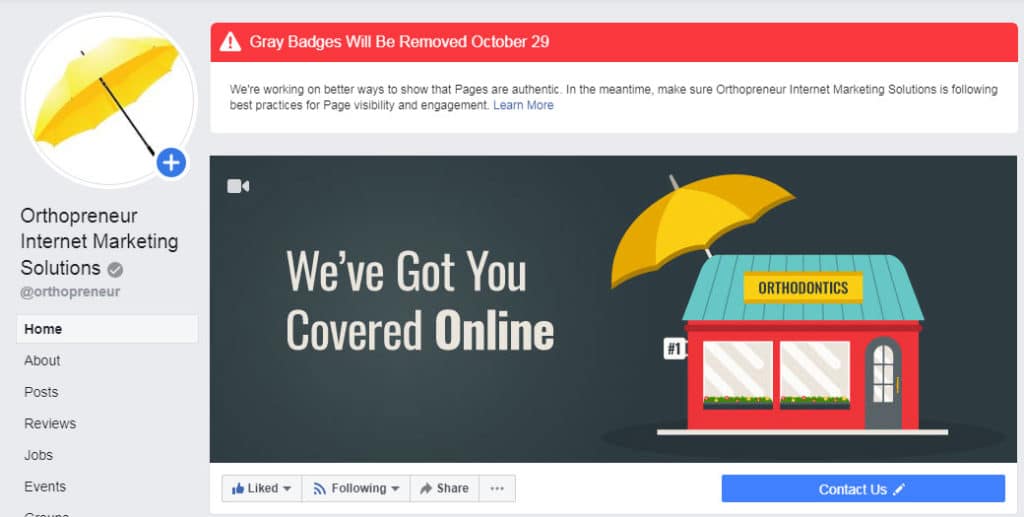 4. Add Website URL
Whether you are enrolled in website design services with Orthopreneur or not, it is important to add your website URL to your Facebook page. Moreover, doing so makes it easier for patients and prospects to learn more about your services and schedule a consultation. Facebook should be the introduction to your practice, your website should be the call to action that generates leads.
5. Add Business Hours
One of the first things people who visit your Facebook Page want to know besides your contact info are your business hours. Adding hours of operation to your business page will help search results show when you're open. Keep in mind of holidays and special events in case your hours may differ during these times. Not having this information will result in the practice being listed as closed – potentially turning new business away.
6. Turn on Recommendations
Facebook reviews are pretty important. So much so, a Market Force study found that 81% of its 12,000 respondents from the U.S. and UK confirmed that their purchasing decisions were directly influenced by their friends' recommendations and posts. With nearly 55% of the world actively using Facebook, it is important to gain reviews there. Recommendations also appear in searches based on the terms used by those who write them – increasing your chances of being seen.
7. Invite Patients to Follow Your Page
Is your orthodontic staff encouraging patients to follow you on Facebook? If not, they should. Ask your staff to encourage visitors and patients to follow your page and post reminders throughout the office. Give them incentives by letting them know why they should follow. Explain that you post regular updates, exclusive offers, contests, and more. If you aren't already doing these things, we highly recommend you start.
Getting found on Facebook and growing your audience is no easy task. With technology constantly changing, your orthodontic marketing strategy should be changing with it. To keep your orthodontic practice up to date, follow the above steps. Feel free to contact our office with questions or to schedule a complimentary consultation. We've got you covered online.