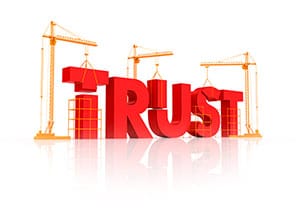 You don't need us to tell you that online reviews are important. As a business owner in 2017, online reviews can make or break you. But let's take a look at some numbers from a recent study by BrightLocal — a leading provider of SEO tools and tracking software — and explore how you can leverage your reviews to increase conversions on your website and landing pages.
The marketing landscape has changed dramatically in just a few short years. Not long ago, word-of-mouth referrals seemed to be the unquestioned leader when it came to trustworthiness. However, responses to the 2016 Consumer Review Survey conducted by BrightLocal showed that a whopping 84% of consumers trust online reviews as much as personal recommendations. So much for not believing everything you read on the Internet!
Along those same lines, BrightLocal found that 74% of consumers surveyed will trust a local business more if they find positive reviews for that business on the Internet. When it comes to your practice, roughly three-quarters of potential patients will place their trust in you once they find positive feedback about you on the Internet.
Using Reviews on Landing Pages
If you are involved in any type of pay-per-click (PPC) advertising campaigns such as Google AdWords, then you likely have landing pages set up on your website. Landing pages receive the potential patients who click on your offer and then aim to seal the deal with a call to your office or an appointment scheduled online.
Are you featuring user-generated reviews on your website and/or landing pages? If not, then you are missing a huge opportunity to build trust and increase conversions. BrightLocal found that 83% of people thought a business with user-generated reviews on their landing pages were trustworthy. Landing pages without reviews were seen as trustworthy by 73% of people.
Ten percent may not seem like much at first glance, but when you crunch the numbers on 500 visitors to your landing page, you are losing the trust of about 50 people if they don't see user-generated reviews. If you were able to start treatment on just a handful of those 50 people you lost, we're talking about a nice chunk of change.
How Consumers Use Reviews to Judge a Business
In 2010, the first year that BrightLocal conducted the Local Consumer Review survey, only 22% of people said they regularly read online reviews to determine whether a local business is good or bad. By 2016, that number had more than doubled! In 2016, 50% of people surveyed said that they regularly read online reviews to determine whether a local business is good or bad.
On the flip side of that coin, 29% of respondents in 2010 said that they did not read online reviews to judge the quality of a business. That number took a nosedive all the way down to 8% in 2015, and 9% in 2016. So if your online review profile is not projecting a positive image of your business, it's going to hurt you now and in the years to come.
It is in your best interest to capitalize on your most satisfied patients and clients and ask for a review. 58% of people pay the most attention to the overall star rating of a business, and less attention to the sentiment or recency of the reviews. In other words, it is more about quality than quantity when it comes to online reviews.
Also, BrightLocal found that 7 out of 10 consumers will leave a review for a business if they're asked to. Don't let opportunities for positive feedback slip away! Seize the moment when your patients are expressing to you their satisfaction or gratitude, and parlay that excellent care you provided into golden nuggets for your online reputation. To increase the chances that a patient publishes a review online, provide them with detailed instructions and make it as easy as possible for them to complete the process.
Importance of Diversifying Your Online Reviews
This is where we can apply the old saying "Don't put all your eggs in one basket." As a healthcare provider, it is extremely important for you to have a well-rounded online reputation. When a prospective patient is mulling a treatment decision that will cost thousands of dollars, they are likely to visit multiple review sites before making a decision.
It is not enough to gain hundreds of positive surveys on Healthgrades while ignoring your business profiles on other sites such as Google and Yelp. Conversely, you can't rely solely on Google reviews to represent your business if your potential patients might be looking on Yelp, too.
Did you know that local searches on Bing will actually show Yelp reviews in the Maps area? That's right. Your Yelp reviews are going to show up on Yelp and Bing. Still thinking that Google reviews should be your sole focus? Think again.
BrightLocal found that 59% of people surveyed will look at 2-3 review sites before they make a decision about a business. This is especially true when it comes to healthcare professionals, as the buyer's decision involves a great deal more risk and financial commitment than where to go for some chicken wings or a burger. Make sure you build up positive feedback on multiple reviews sites so that your reputation speaks for itself no matter where your prospective patients are doing their research.
If you are feeling lost or would like to speak with a marketing professional about your online branding and reviews, click the button below for a free evaluation.
For more information about online review programs and tactics, call us at (877) 295-5611 or schedule a complimentary evaluation with our team of Internet marketing experts. Data in this article is referenced from the BrightLocal Local Consumer Review Survey 2016.