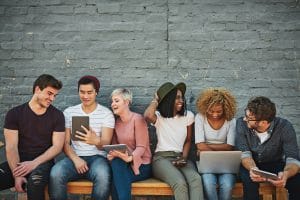 One of the biggest excuses dental and orthodontic practices have for being active on social media is restrictions set by the Health Insurance Portability and Accountability Act – more commonly known as HIPAA. While there are a number of rules in place for the protection of patients and practices alike, they do not make social media marketing impossible.
Contrary to popular belief, there are ways your practice can meet HIPAA's social media compliance guidelines. To help you understand how to keep your office fun while following the law, let's review four simple ways to comply with HIPAA using social media.
Create a Social Media Policy
While the idea of creating a social media policy for your orthodontic or dental office may seem complicated, it doesn't have to be. Most social media policies are separated into two areas: business and personal accounts. Within those areas, topics for social media policies include:
Rules and Regulations

Roles and Responsibilities

Potential Legal Risks

Security Risks

Accountability
Once you have set guidelines for how you would like employees to manage both their personal accounts and those of the business, it's time to train them. Not everyone who uses social media does it well. Train your staff on social media marketing best practices for orthodontists and dentists while staying true to your brand. For example, using appropriate hashtags related to your practice or industry when posting to Instagram.
Practice Medicine at your Practice, Not Online
The purpose of social media is to engage with audiences and grow your online presence. While you may often receive questions or comments relating to braces or other orthodontic treatment issues, always advise followers to contact your office directly or to schedule an appointment. Doing so will keep those conversations confidential and more patients coming through your door.
Designate Areas in the Office for Photos
Look for areas in your office that have little to nothing in the background for taking photos with or of your patients. Having very little in the background reduces chances of violating someone's privacy and creating legal trouble. It also encourages consistency for branding.
Get Consent
Having a clearly written consent form for patients to sign prior to uploading to social media covers all parties involved. Not only will your patients know and understand their rights, but your practice will have legal authorization to use the photos.
To create your own consent form, be sure to include:
What the patient is specifically authorizing

The purpose of the authorization

The ability to revoke the authorization

An expiration date

The opportunity to receive a copy (if desired)

To whom, specifically, the patient is giving authorization
HIPAA compliance does not have to be as complicated as it seems. With a little planning and teamwork, you can keep your practice fun while helping it grow. For help with resources for social media best practices, contact our office today.