Not many things in life are certain, but change is one of them. Google, being no stranger to change, recently announced updates to the way it's directions heatmap works for Google My Business pages. Now, orthodontic practices and other businesses can take a deeper look into where users are coming from when looking up directions to their locations.
What's Changed?
While the directions heatmap has been around since 2014, these new changes provide practice owners with better knowledge of their prospective patients than ever before. Using the geographical insights from the directions heatmap, orthodontists and dentists can adjust their local SEO and marketing strategies to target patients more efficiently.
Instead of trying to pinpoint where patients may be, practices will now be able to see on a map where patients are requesting directions from. Your practice location will appear as a pin and search results are displayed on a heatmap that can be adjusted to different zoom levels. Direction requests can be separated into cities and neighborhoods for an even closer look.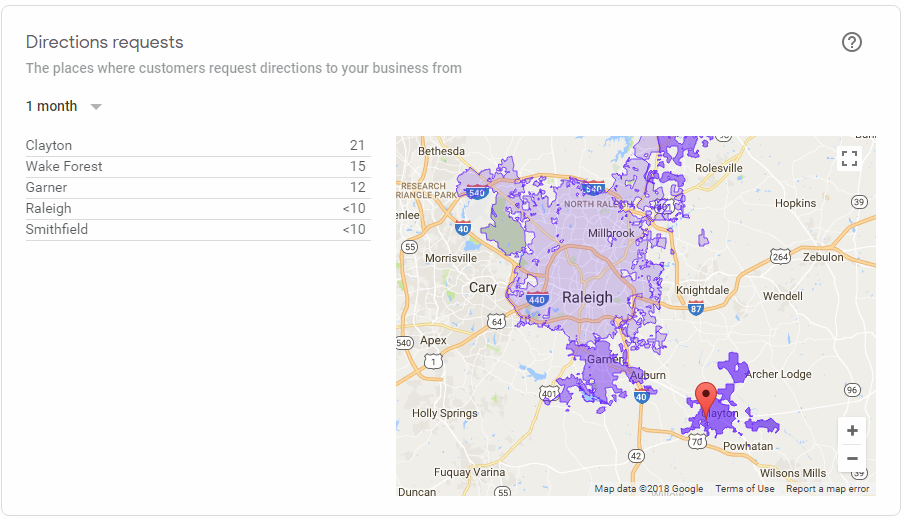 Meet Them Where They Are
One of the biggest advantages of being able to see how far people are willing to travel to your location is with advertising. When you know where your patients are, you are able to meet them there and tailor your content to compliment their interests or lifestyle.
If you know there are high numbers of potential patients looking for orthodontists in a certain area, you can place ads in those areas so that your brand is more visible. Odds are, when a patient is ready to schedule an appointment, they'll remember your ad and are more likely to contact you.
Just as you would create custom fit braces or aligners, you can now create custom content specific to certain neighborhoods and better define your target audience. From Facebook ads, pay per click and radio ads to outdoor billboards and direct mail, your practice can send relevant messages to those who will actually use your services. Doing so will increase the chances of your orthodontic or dental practice getting noticed.
How to Access Your GMB Insights
In order to access the directions heatmap, you must:
Log in to your GMB page
Click on your location among the list (some practices have more than one location)
Click "Insights" from the menu on the left-hand side
From there, you will be able to see not only direction requests, but where patients view your business on Google, popular times and more.
To learn more about Google My Business insights, visit the Insights section of your page.