Google Reviews and the ability for business owners to respond to reviews has been around since 2010 and is nothing new. What is new, however, is Google's latest announcement of changes to how businesses respond to their reviews.
On May 11, 2018, Google changed the game when it announced the release of its "Owner Review Response Notification." Now, when a business responds to a customer review, the customer receives a notification via email similar to this.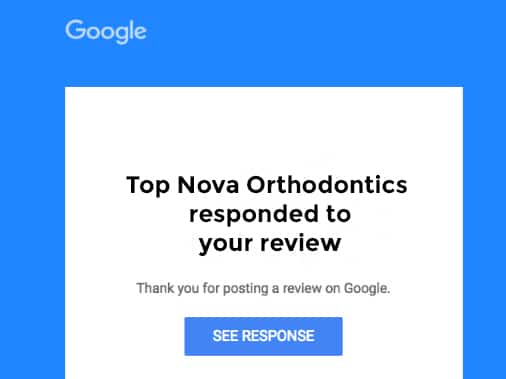 It is important to note that the response notification does not happen immediately. Business owners are given five minutes to edit their response after submitting before the notification is sent to the customer.
Why This Update is Important
If you're wondering why this update is important to your practice, here are two reasons to consider:
Google reviews are becoming an essential part of reputation management. It will no longer be good enough to simply have a Google reviews page. Practice owners will now be expected to be active with their reviews by responding to both positive and negative reviews in a timely manner. The new normal will see Social Media Managers and Office Coordinators alike adding responding to reviews part of their daily tasks.
This will be a turning point in patient expectations in your practice. Knowing that 84 percent of patients trust online reviews as much as a personal recommendation, their expectations for how an orthodontic or dental practice manages their online reviews is crucial to their decision making. If a patient sees that a practice does not respond to their reviews, whether positive or negative, they may be lead to think that the business does not care about their patients or the quality of care they receive.
What This Means for Practice Owners
The bottom line is that the new feature places more pressure on business owners of all kinds to make managing reviews a priority. This means constantly checking and managing their online presence from social media to Google reviews. This also means making changes to your practice's social media policy.
Your social media policy should now include specifics for addressing both positive and negative reviews and a timeframe for how long to respond after a review is submitted. This can be as simple as stating that negative reviews will get a response within X number of hours upon receipt. I will be your job to define X based on your practice's resources and the roles and responsibilities defined within the social media policy.
What This Means for Patients and Consumers
Consider this: Mom schedules two different consultations with orthodontic practices regarding treatment for their children and writes reviews for both. Orthodontic Practice A gives them a comprehensive treatment plan, but the staff was not as warm as they would've liked. Orthodontic Practice B gives a very confusing and expensive treatment plan but the facilities and service were amazing.
The next day, mom receives a notification that Orthodontic Practice B has responded to their review and invited them back to the office for a better explanation and full run-down of payment options. Orthodontic Practice A does not respond so mom chooses the other practice instead.
What led mom to go with the practice that left them more confused and a little worried about cost of treatment? The answer is simple: their response. Because Practice B addressed their concerns and went the extra step to invite them back for clarity showed mom that they cared. The fact that Practice A said nothing left mom to believe that the practice didn't care and was inaccessible.
While Practice A may have been just as great with customer care as Practice B, it did not show where it matters most. A 2017 study found that more than half of consumers expect a response to their reviews within one week of submission. Failure to do so could be the difference in converting new patients or maintaining a practice's current patient level.
Help is Available
At Orthopreneur Internet Marketing, we understand the importance of reputation management, and how reviews are just one of the many pieces required to complete the Internet marketing puzzle. Online marketing today is all about grabbing attention and engaging consumers. To do so, your online presence and reputation management must represent you as a leading-edge orthodontic practice in your area to maintain your competitive edge. Putting the pieces together in a format that consumers appreciate and Google understands is our job!
Contact us for a complimentary consultation and see how we can help make your practice more profitable today.