Many people may wonder why they or anyone for that matter would want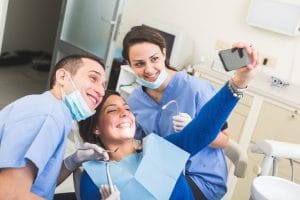 to follow their dentist or orthodontist on social media.
Oral hygiene is far from exciting content people want to see in their newsfeeds. On the contrary, your dental or orthodontic practice could be just as engaging as any other small business with the right strategies.
Creating Content with a Purpose
At Orthopreneur, when it comes to content, we believe you should make it relevant, make it personal and make it fun. When content is created with these things in mind, your practice can soon become a business worth following.
To help get you started, we've got three post ideas your office can use as soon as today:
Showcase a New Piece of Equipment.

Most patients have no clue what tools and equipment are used during their treatment. Create a brief video or share photos educating followers on a new piece of equipment in your office and how it benefits patients. Add your personality with a fun joke, sign or facial expression.

Post a Hygiene Team Photo.

One of the best ways to engage with followers is to feature the actual people they'll encounter in your office. Get your staff together for a photo to show how oral hygiene can be fun. Reference pop culture, wear a fun accessory or grab a few props from the office like floss and toothpaste. A team that flosses together, stays together.

Create an Office Tour Video.

It's true that most people avoid going to the dentist at all costs due to fear and anxiety. Reduce some common fears by providing followers with a virtual tour of your office. Be sure to include staff and use features like Facebook Live or Instagram Stories to engage with followers. There's less to fear when you know what to expect.
It is important to remain active on social media for the above suggestions to really take effect. The more you post and engage with followers, the easier it will be to see your content in the future. Focus on providing value in your content and patients will start to notice. With time, your practice culture will be clear and easy to follow – leading more new patients your way.
Need help creating ideas for posts? We can help! Contact our office to find out how to create content your patients will want to interact with and share. When it comes to digital marketing, it's a team effort. Together, we can help your practice make a positive impact on your community.