Short answer? In the long run… Yes! While it is not yet imperative to have a responsive site design immediately, the Internet landscape is shifting. As more and more people surf the web with smartphones and tablets, business owners will need to optimize their online content for these mobile users.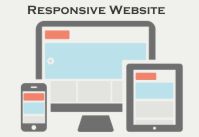 I heard that Google prefers responsive websites…
Google prefers websites that are organized, original, and useful to their visitors. Google doesn't like crawling errors, or 404 errors, or too many redirects, or spammy content. The perception that Google prefers responsive sites is born out of the fact that responsive sites are usually better-organized than some older, messier designs. Responsive also converts better to mobile, reducing crawl errors and redirects.
Currently, Google is not giving ranking preference to responsive websites. Here are a few of Google's primary ranking criteria for all sites, responsive or otherwise:
traffic (sites that get a lot of visits)
sites that are well-organized (simple, logical navigation)
sites that have unique content (duplicate content is a big no-no for Google)
sites that load fast
sites to which other credible sites link back
and the list goes on. Nowhere in Google's Webmaster Guidelines does it say that a site should be responsive.
The primary goal of a website is to give people what they are looking for and to make it easy for them. If you satisfy your human visitors by keeping them informed and engaged, then you will have similar success with the search engines' crawler bots.
What is a responsive website?
A website that can automatically re-size itself based on the screen size of the visitor's device is known as "responsive." Responsive designs are built around percentages instead of pixels. That allows responsive sites to break themselves down and restructure themselves to fit any size display.
Responsive designs feature "break points" that are basically a sequence of moves to organize the website as the user's display gets smaller or larger. All of the content, images, and navigational buttons on the site are given a specific order that is expanded or contracted based on the dimensions of the user's device.
What is the Upside?
A big benefit of responsive website design is it enables you to deliver the same content to all users, regardless of device. Furthermore, you can serve that content to all users in a format that is both functional and aesthetically pleasing.
What is the Downside?
The user experience in a responsive format on a smartphone is not as engaging as previous mobile sites with a push button experience that is easy to navigate. Also, loading a responsive website on a smartphone takes longer to download. This can be a problem for some visitors with older phones.
What if I don't currently have a responsive website?
Over 80% of orthodontic websites are non-responsive. You don't have to run out and build a new responsive website immediately, especially if your current site is up to date, includes a mobile site, and is doing well in local search results. But as technology evolves and the devices we use to browse the Internet get smaller and smaller, business owners need to update their digital content to reflect and exploit the habits of consumers.
Older websites designed with fixed pixel amounts are inflexible. They appear on tablets and smartphones with tiny text and navigation buttons too small to tap. They require zooming in with the two-finger stretch maneuver. They are cumbersome and slow. They are everything that mobile users dislike!
If your current website has no mobile solution, like a mobile plugin or a compatible mobile website, then you are doing a disservice to all potential patients who are searching on their phone. How many potential patients could that be? According to research by Smart Insights, one half of all local searches are performed on mobile devices. However, based on Google analytics for the orthodontic profession, I have found that approximately 35 – 40% of visitors use mobile devices, with a good percentage using iPads and tablets rather than a smartphone. This is lower than the standards currently reported which take into consideration all businesses as a group.
Some web design companies are claiming that responsive websites have become mandatory and that those who do not convert immediately will be left behind. That is not the case based on current local search results. However, if you currently lack a mobile solution for your website, then you may indeed be left behind.
To learn more about responsive website design and mobile marketing for orthodontists, schedule a free consultation with Orthopreneur and we will walk you through the different options available to improve your web presence.