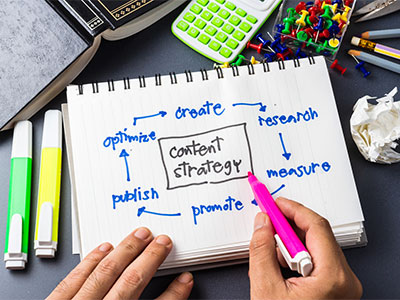 When it comes to content marketing for orthodontic practices, having a balance of curated and created content is key. In order to do this successfully, you must first understand the difference between curated and created content. Fear not, we at Orthopreneur Internet Marketing Solutions are here to explain. 
What is Content Marketing?
Before we jump into the differences between curated and created content, let's first understand what content marketing is. As it relates to orthodontics, content marketing is making and distributing information to gain new patients. The content shared should positively influence prospective patients, but not feel like a sales pitch. Content marketing comes in many different forms, including: 
Articles 

How-tos

Photos

Q&As

Video

Ebooks
The most effective content marketing strategies incorporate a mix of these content types. As social media continues to evolve, the same can be said for content marketing. Curated content (content gathered from third-party sources) along with created content (content created on your own) has become more popular across and is proving to be effective for the field of orthodontics in particular. 
Creating Your Own Content
From blog articles and infographics to photos and videos, content that is created by you or staff of your orthodontic practice is essential for branding and engagement on social media. Created content should also include posts that are created and shared on specific platforms, such as Facebook Live, Instagram's IGTV or Snapchat Stories. 
Although there are many advantages to creating your own content, the most important aspect is its ability to position your orthodontic practice as an expert in your industry both locally and online. This is done through sharing content that showcases your knowledge, company culture and unique perspective on trendy topics and common questions patients have. Blogging is one of the best ways to achieve this.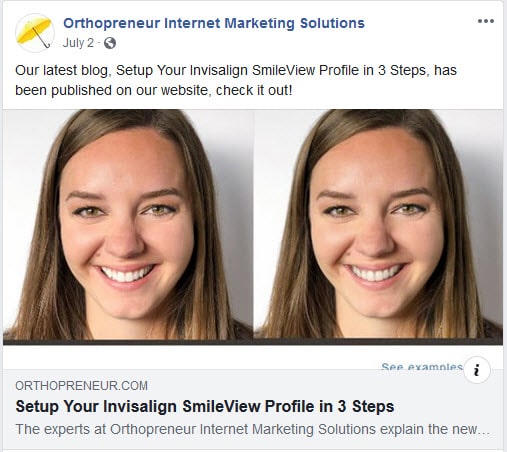 Photo Credit: Facebook
Created content is also great for driving more traffic to your website with clear calls to action leading directly to appointment request forms or other specific pages on your site. Be sure to create custom visuals and text that spread the news about the services you offer while staying on brand. 
Curating Content
Finding and sharing already existing content that will be helpful or entertaining to your patients and followers is the best way to define curated content. The key to making this type of content work in your favor is by fusing the existing content with relatable terms or experiences in orthodontics or at your office. Look for content from trusted sources to provide variety in your posts and balance out self-promotional content.
One of the most important parts of curating content is giving credit to the original source. Be sure to tag or backlink to the original source whenever you are using content that is not yours. This prevents legal complications and ensures that the creator gets credit for their work.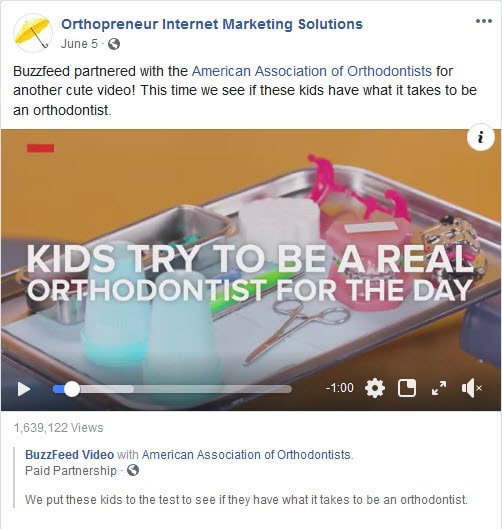 Photo Credit: Facebook
Orthopreneur Can Help
For more information on content marketing for orthodontic practices, contact our office. Trust the experts in orthodontic marketing to help you learn how to BE social, not do social media. We've got you covered.