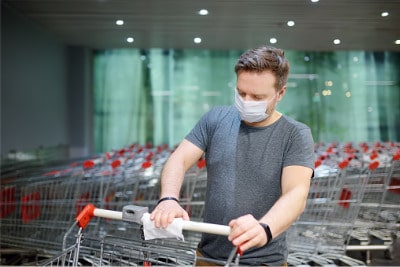 It's not a bad time to start thinking about what the "new normal" will look like whenever the COVID-19 shutdowns taper off and local businesses reopen. The business owners who spend this time looking ahead and preparing for what comes next will find themselves ahead of the game when the economy picks back up.
Consumers are currently developing new habits, and their behavior could shift significantly for the duration of 2020 and beyond. (Hopefully, hoarding toilet paper won't be a "thing" much longer.) Let's take a closer look at developing trends and explore how to position your business to remain successful.
Sanitation, Cleanliness, and Safety
I wish I had stock in Purell! Germophobia isn't an eccentric personality trait anymore; it has practically become the social norm. People are now keenly aware of every surface, the likelihood of its contamination, and mindful of everything they touch.
In orthodontics, it was always crucial to maintain a sterile environment and exude cleanliness in all areas of your office. Now, it could become something of a marketing tool. 
You can concentrate on creating and sharing images of your spotless office. You can describe your sanitation process in YouTube videos and on Facebook Live. You can ask for (and highlight) testimonials from patients about the cleanliness of your treatment and waiting areas.
Cleanliness and sanitation are top-of-mind in today's society. Showcase the ways your business takes this to heart.
Avoiding Crowds
Even after the government allows local businesses to reopen, people are going to be extremely wary of crowds. Setting up your business to accommodate these concerns will show that you care about your patients. Here are some ideas to consider (and promote if you're comfortable with it):
Spacing out appointment times to reduce foot traffic

Reorganizing waiting areas (fewer chairs, more separation)

Plenty of hand sanitizer and disinfectant wipes readily available
Transparency and Openness
The average consumer is getting smarter, and more aware. The Internet has made it possible to do extensive research and become extremely knowledgeable before making a buying decision.
It's also easier than ever for bad reviews to cause long-lasting damage to a business. Any "bait & switch" practices were already a bad idea, but that risk is amplified these days.
Further, the coronavirus pandemic has recalibrated many people's priorities. There's a renewed sense of humanity and appreciation. Acts of charity and human decency are resonating more because people are faced with grim realities every day.
Trust and transparency are as important as ever. In some ways, as society evolves, it's almost like we're reverting back to the old values of the 1950s. Honesty, integrity, and trustworthiness are just as important as price and technology. 
People are willing to pay a little more if they feel comfortable with (and valued by) the business. Customer service and personal relationships will help your business more than the lowest price or the coolest office.
Do yourself a favor and spend some time reflecting on how you've changed personally in the first quarter of 2020. Translate those changes to your business, and you'll be on your way to thriving for a long time to come!