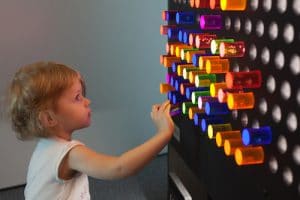 Are you looking for a really cool, up-and-coming product to make your office stand out? Check out LiteZilla!
Dubbed "The World's Largest Lite Brite," LiteZilla is a hand-crafted, interactive, illuminated canvas. The glowing grid utilizes LitePins to create any design or pattern that your imagination can conceive.
It's customizable. It's creative. It's attractive. It comes in lots of different sizes to accommodate any space. It can be wall-mounted, tabletop, two-sided, free-standing, even climbable!
LiteZilla features energy-saving redundant LED lights. If one of the diodes fails, the light output is unaffected. You can even customize the LitePins to match any Pantone color selection. That means the LiteZilla can be tailored to your specific office and branding colors.
The frames come in all sorts of looks and feels, including black walnut, white oak, bamboo, metal; you can even get one encrusted with Swarovski crystals!
All the holes are tooled, not drilled, which means there are no sharp edges. There are also no closing flaps over the holes, which makes maintenance easier and also prevents fingers from getting pinched.
Want to engrave the customizable LitePins with your practice logo? You can do that. Want to put your LitePins through the dishwasher to keep them clean and sanitized? You can do that, too.
LiteZilla installations are mesmerizing to kids, and adults tend to be quite drawn to them as well. Get people talking about your office in the best way imaginable.
If you're looking to step up your waiting game with something truly engaging and unique, visit the LiteZilla website today. The possibilities are endless!
For more information, visit https://www.litezilla.com.